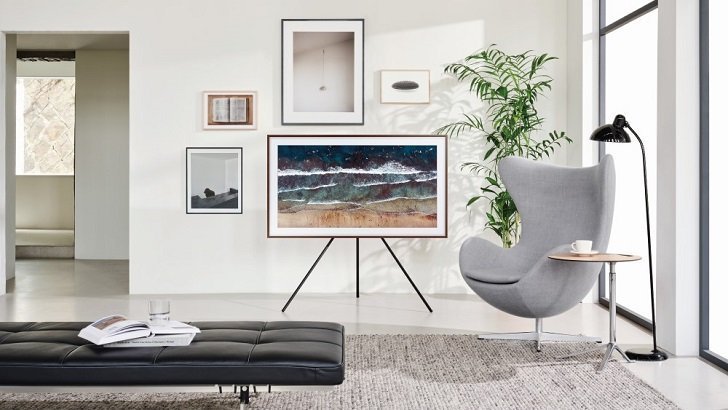 For art to become part of your daily life, your daily life needs to become art first. At Samsung Electronics, Samsung Art Store managers bring this vision to live. Jiyea Kim, Jiwon Shin and Yeseo Choi all manage the planning and operation of the Samsung Art Store in Samsung's Visual Display Business.
"Why must we have art daily in our daily lives?" To answer the question, Samsung Newsroom sat down with the Art Store managers to learn how artwork at home can refresh an ordinary day and transform our living spaces.
Your Life, Centered on Art
The Samsung Art Store is an art subscription service that began in 2017 for The Frame, the company's lifestyle TV. In partnership with more than 50 museums and galleries worldwide, the service provides more than 2,000 pieces of artwork, ranging from famous paintings to unique pieces from emerging artists. Through this service, users can access various works of art in 4K resolution from the comfort of their own homes.
Even today, consumers can find the traditional ways of viewing art to be unapproachable and inaccessible. However, even if art appreciation seems — at first glance — slightly out of reach, art has the power to benefit our daily lives. "Some people tend to believe that art is distant and difficult, but I believe anything that entertains our eyes and ears is considered art," Jiyea Kim said. "When you feel exhausted and dull, you can get a boost of energy through art," added Kim.
Refresh Your Living Space With Digital Art
One of the key features of the Art Store is that users can freely swap out their artwork according to the décor and mood of its surrounding space. There are a wide variety of options available in the Art Store, from renowned masterpieces such as the Mona Lisa by Leonardo da Vinci to the photography by the LIFE Picture Collection, which captured historical moments of the 20th century.
"I personally use The Frame at home, and I can really see how it effectively changes my home interior," said Kim. "It's not easy to frequently change a room's atmosphere, but with The Frame and the Art Store, I can easily change my space with different artworks — even for different seasons or special occasions like Christmas."
Yeseo Choi suggested bringing out the space through a welcome painting. "Just like how we offer welcome food or drinks, when you have guests over, you can welcome them with their favorite piece of art on The Frame. It will not only give a new vibe to the space, but it will also present a special experience for guests," she said.
Bringing Artwork to Your Living Room
The Art Store offers more than just artwork: it also provides a description for each piece and information on the artist. It even includes detailed information on the art museum where the piece is displayed. Thanks to such features, users can gain knowledge of the artwork while enjoying it.
"I saw the original artwork of Gustav Klimt at the Belvedere in Austria. I wanted to return to see it more often, but unfortunately could not," said Choi. "However, I can now see it every day at home, as the works of Klimt have recently been added to the Art Store."
"The Art Store vividly delivers each piece's unique texture and characteristics," said Choi. "So, even if the original artwork is displayed somewhere far away, you can always see the artwork as if you are looking at the original piece — whenever and wherever you are."
Jiwon Shin was particularly interested in how children would benefit from the service. "With the Art Store, children can view various artworks that may lead to increased creativity," Shin said. "Art might be difficult and unfamiliar even for adults. But if you start exposing yourself to art at a young age, you can be more familiar and have better perspectives towards it."
Tips: Curating Art for Your Home
Looking for a painting or a drawing that fits your preference or reflects your mood? The Art Store comes with built-in recommendation features.
Users can utilize the For You feature to get comprehensive art recommendations that reflect all their preferences.
"The For You feature is a customized recommendation feature based on an algorithm," said Choi. "For instance, if you enter keywords in the comprehensive search option that represent a certain color, such as 'red' or 'green,' or a certain mood, such as 'modern' or 'light,' then you'll get the relevant artworks recommended for you. So, you can easily find artwork that reflects your mood or fits the space."
An ongoing curation service is available as well. Through regular curation, the home screen of the Art Store shows recommended artworks suited to a particular subject or theme during a certain period of time.
"You can find previous curations from the Curation menu, so you can look up the subject that fits your preference and find relevant artworks anytime you want," said Shin.
She also recommended the Favorites and Slide Show features. You can add any work of art to Favorites and set up the timing and duration of the Slide Show feature. According to the setting, the piece will automatically switch. Users can set the artwork to change as often as every 10 minutes or as slowly as once every week.
New Screen Experience Transcending Space and Time
The opening of the Art Store launched an era of users enjoying art anywhere, anytime. So, what's the future of the Art Store? "Right now, this feature is only the Art 'Store.' So, we're looking to expand the service from simply art discovery to different activities and experiences that users can enjoy in their space," said Choi.
"Since this service is available for everyone regardless of their age or nationality, I hope more users will use this service," Shin said. "We're working hard to enhance the platform's accessibility."
"Until now, we've focused on promoting how users can access art through the service. But now, it's become important to showcase the appeal of the service itself," said Kim. "Our goal is to provide a service that brings happiness and satisfaction to the users as an art platform."