Keeping fit has been difficult for many of us in the past year – especially for those who are desk-bound for hours on end. At the same time, being cooped up at home has also made it more important than ever for us to be physically active.
If you need a constant companion to nudge you along to be healthier, how about considering a smartwatch?
Regardless of age or lifestyle, the cutting-edge technology and apps embedded within Samsung's new Galaxy Watch4 Series are designed to help you plan your workouts more efficiently while maximizing the fun in each activity.
Available in Black, Green (44mm only), Silver and Pink Gold (40mm only) for Galaxy Watch4, and Black and Silver for Galaxy Watch4 Classic (available in both 42mm and 46mm), the Galaxy Watch4 Series presents the right data and information to empower you to become the best version of yourself!
Read on to find out four reasons why the Galaxy Watch4 Series makes for the ultimate workout companion!
Test your limits with group challenges
It's a situation familiar to most of us: After a long day of working or studying, the fatigue sets in, and the temptation to skip a workout in favor of watching our favorite TV shows creeps in. When facing such scenarios, there's nothing like moral support from our social circles to keep us going.
With Group Challenges available on your Galaxy Watch4 Series, you can track your steps against that of your friends and loved ones, and keep each other motivated through a message board[1] and leaderboard that tracks each member's progress. This is also updated in real time, so you can track your group's progress live!
You can even get creative by challenging each other in different ways. For example, the person in the family who has accumulated more than 8,000 steps over three consecutive days can get an additional scoop of ice cream. And if you happen to be working out with colleagues, why not recognize the most active co-worker for the month with a medal and shopping vouchers?
Discover the best of both worlds with Tizen and Google integration
True to Samsung's user-first commitment, the Galaxy Watch4 Series features Wear OS Powered by Samsung – a new platform built by Samsung and Google. Available for the first time on the Galaxy Watch4 Series, Wear OS combines the best of Samsung's Tizen operating system (OS) with Google's Wear OS, letting users tap into an expansive ecosystem right from their wrists.
Here are just some of the many ways you can supercharge your workouts with Wear OS:
Explore new running, hiking and cycling routes conveniently on your wrist with Google Maps, featuring turn-by-turn directions sent from phone to smartwatch.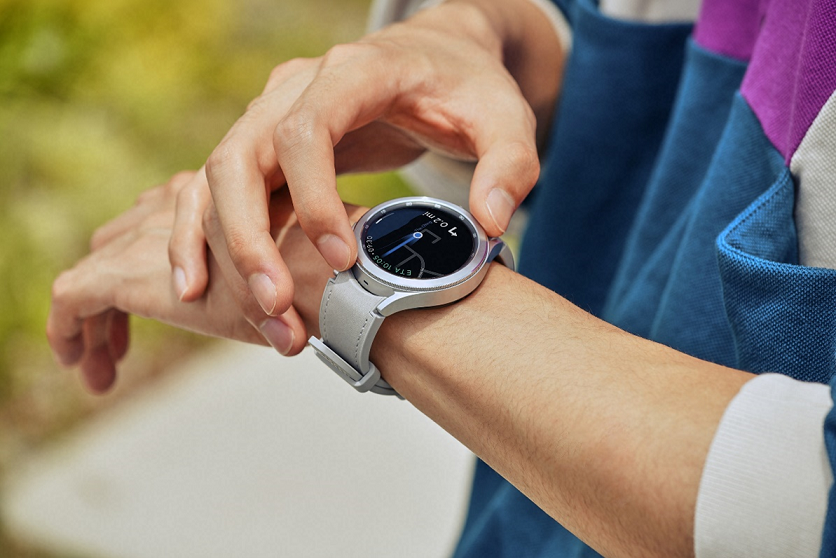 Stream music according to the mood of your workout on built-in music apps like Spotify or YouTube Music without having to bring your phone along with you

[2]

!

Enjoy seamless integration with the Galaxy Buds2
For many of us, music sets the stage for a fulfilling workout – from heart-pumping house music to stay energized for a high-intensity workout, to therapeutic jazz music that calms one down during a yoga session.
The Galaxy Buds2 comes equipped with Active Noise Cancelling (ANC), which cuts external background noise by up to 98%[3] [4], making it the perfect companion to the Galaxy Watch4 Series when you're trying to get in the zone during a workout.
Meanwhile, the Galaxy Buds2's Ambient Mode lets you choose from three levels of ambient sound, all with just a tap on the Galaxy Watch4 – perfect for moments when you still want to be connected to your surroundings during your fitness regime. That way, you can still listen to your favorite music while talking to your friends during a group run, for instance.
The Galaxy Buds2 also has a battery life of up to 5 hours in ANC mode and 15 hours more with a fully charged buds case[5] – so you're covered even on longer workout days. 
Being able to access vital health data helps us affirm that we are reaping the benefits of regular exercise. It also serves as a good reminder to get up and keep active.
The Galaxy Watch4 Series takes remote health data to the next level, featuring a ground-breaking BioActive Sensor that reads blood oxygen level[6], and for the first time, calculates body composition[7].
Indeed, having a companion like the Galaxy Watch4 can certainly be a useful push for many of us to lead more active and healthier lifestyles!
Galaxy Watch4 Series and Galaxy Buds2 Availability
Malaysians can purchase the iconic Galaxy Watch4 Classic or Galaxy Watch4, Bluetooth and LTE versions, from Samsung Malaysia e-store, Samsung Experience Stores and Samsung Authorized Dealers. LTE version is only available on Samsung Online Store and Digi.
And as for the Galaxy Buds2, make your purchase by 31st October 2021, to get a free Galaxy Buds Water Resistant Cover worth RM99![8]
Product
Colour
Recommended Retail Price (RRP)
Galaxy Watch4 Classic

LTE (46mm)

Black
RM1,699
Galaxy Watch4 Classic

LTE (42mm)

Silver
RM1,599
Galaxy Watch4 LTE (44mm)
Green, Silver
RM1,299
Galaxy Watch4 LTE (40mm)
Pink Gold, Black
RM1,199
Galaxy Watch4 Classic Bluetooth (46mm)
Black, Silver
RM1,399
Galaxy Watch4 Classic Bluetooth (42mm)
Black, Silver
RM1,299
Galaxy Watch4 Bluetooth (44mm)
Green, Black, Silver
RM999
Galaxy Watch4 Bluetooth (40mm)
Pink Gold, Black, Silver
RM899
Galaxy Buds2
Lavender, Olive, Graphite, White
RM499
For more information on Galaxy Watch4 series, please visit:
Galaxy Watch4 Bluetooth 44mm – https://www.samsung.com/my/watches/galaxy-watch/galaxy-watch4-green-bluetooth-sm-r870nzgaxme
[1]

All participants must have Android smartphone running 6.0 or above with the latest version of the Samsung Health app and a Galaxy smartwatch and/or fitness tracker.
[2]

Only applicable for Galaxy Watch4 LTE version
[3]

ANC (Active Noise Cancelling) is on by default, and the touch and hold gesture for ANC can be configured in the Galaxy Wearable app.
[4]

Changing the 3 levels of ambient sound volume can be set up on Galaxy Wearable app.
[5]

Earbuds and case provide up to 20 hours of battery life when the case and earbuds are charged to 100%. Based on internal testing. Audio playback time tested by pairing a pre-production Galaxy Buds2 to a recently released Galaxy smartphone with default settings including ANC on. Actual battery life may vary and depend on usage conditions, settings, number of times charged, Bluetooth signal strength, and other factors. Play time may vary based on settings.
[6]

The Blood Oxygen (SpO2) feature is not intended for use in the diagnosis of disease or other conditions, or in the cure, mitigation, treatment, or prevention of disease. Intended for general wellness and fitness purposes only. Availability of this feature may vary by market.
[7]

Intended for general wellness and fitness purposes only. Not intended for use in detection, diagnosis, or treatment of any medical condition or disease. The measurements are for the user's personal reference only. Please consult a medical professional for advice. Do not measure your body composition if you have an implanted pacemaker or other implanted medical devices. Do not measure your body composition if you are pregnant. Measurement results may not be accurate if you are under 20 years old. Availability of this feature may vary by market.
[8]

While stocks last. Terms and Conditions apply.