Some of our possessions have a tendency to never be where we think they are, with smaller and less conspicuous objects often proving especially elusive.
On January 19, Samsung Electronics launched Galaxy SmartTag, a gadget to take the pain out of misplacing your personal items. Measuring slightly less than 4cm by 4cm and weighing only 13 grams, the Galaxy SmartTag can be attached to keys, luggage or any of your other personal belongings to make them easily trackable on your smartphone.
How to Use the Galaxy SmartTag
Before you can use your Galaxy SmartTag, it first needs to be connected to your smartphone1.
Simply press the button in the middle of the SmartTag, and then press it once more when prompted by your smartphone. You will then be able to see the location of the tag on a map using SmartThings Find in the SmartThings app and use features like navigation to locate the tag or have it emit a chime.
[Found it!] ① Car Keys Under the Sofa
You're late for work, but the car keys you left on the shelf aren't there anymore. You check your bag and your pockets, but the keys are nowhere to be found! You pick up your smartphone and open SmartThings Find. Once you press 'Ring', a beeping sound starts coming from under the sofa2– the last place you would have thought to check! Thanks to SmartTag, you make it to work on time.
[Found it!] ② Smartphone Stuck Down the Side of the Bed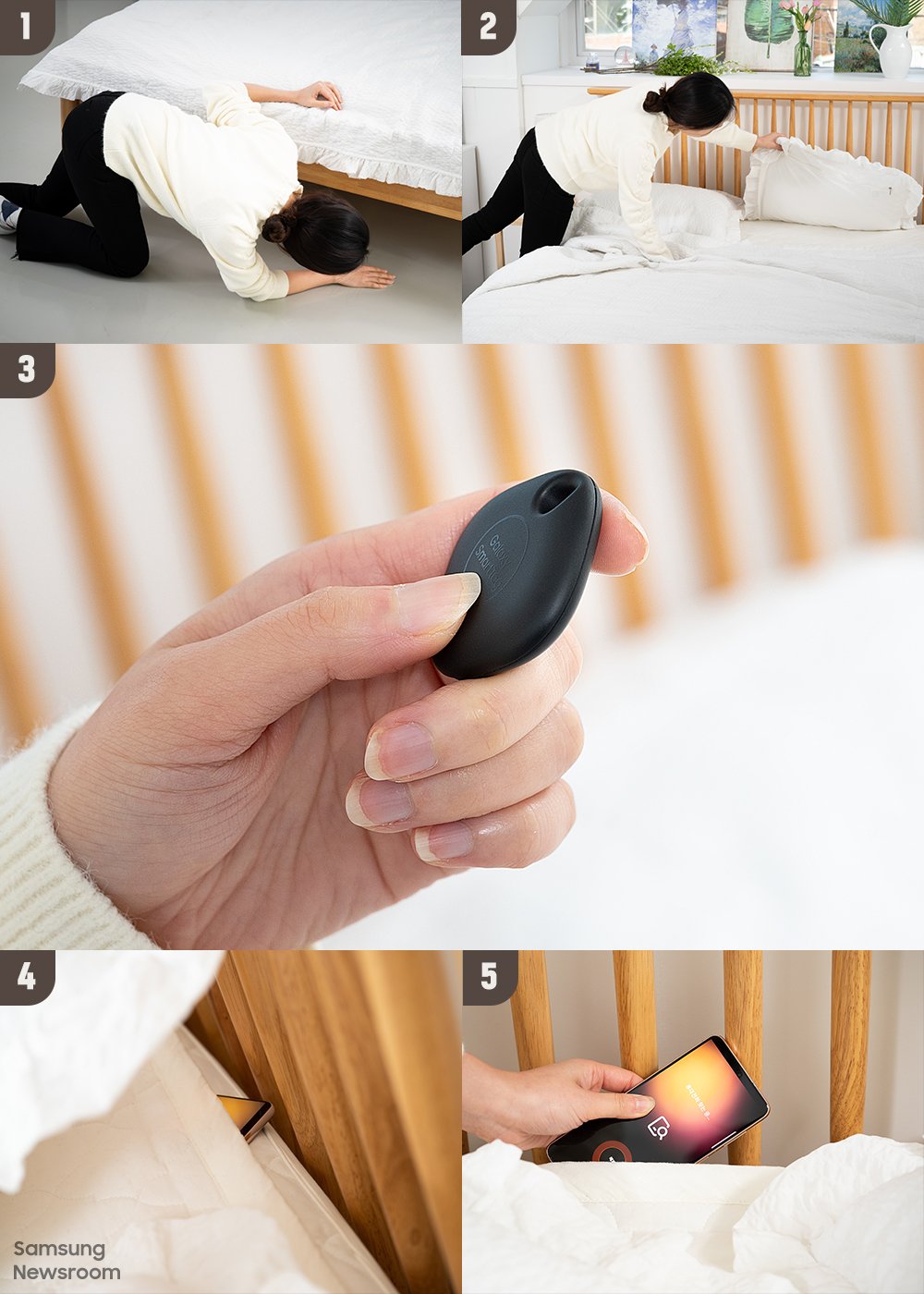 You're sure you left your smartphone on the bed, but after doing some housework you come back to find that it's not there. There's no one home who you can ask to call your phone, and even if there were, you left your phone on silent mode! You're left with no choice but to search the entire house.
Luckily for you, your Galaxy SmartTag can also be used to locate your smartphone by activating the 'locate smartphone with Tag'2 feature to make your phone emit a sound. You press the button on your SmartTag twice, and your smartphone starts beeping, allowing you to locate it trapped between the mattress and the bed frame.
[Found it!] ③ My Dog, the Troublemaker

"Ding-dong". When he hears the doorbell, your dog Buddy races to the door. As nice as it is that he greets visitors, he sometimes gets out while you're receiving a delivery.
Once again, Buddy escapes the moment you open the door and runs off down the street. Fortunately, you've attached a SmartTag to Buddy's collar. When the Galaxy SmartTag is near your smartphone, it uses Bluetooth Low Energy (BLE) technology3 to provide the location of the tag. If the tag is not near your phone or Bluetooth is disconnected, it uses other nearby Galaxy smartphones to detect the SmartTag signal and help you locate what you have lost. You open the map in SmartThings Find, navigate to the designated pin, and find Buddy waiting in front of the bakery.
[Found it!] ④ Using your Galaxy SmartTag to Operate Home Appliances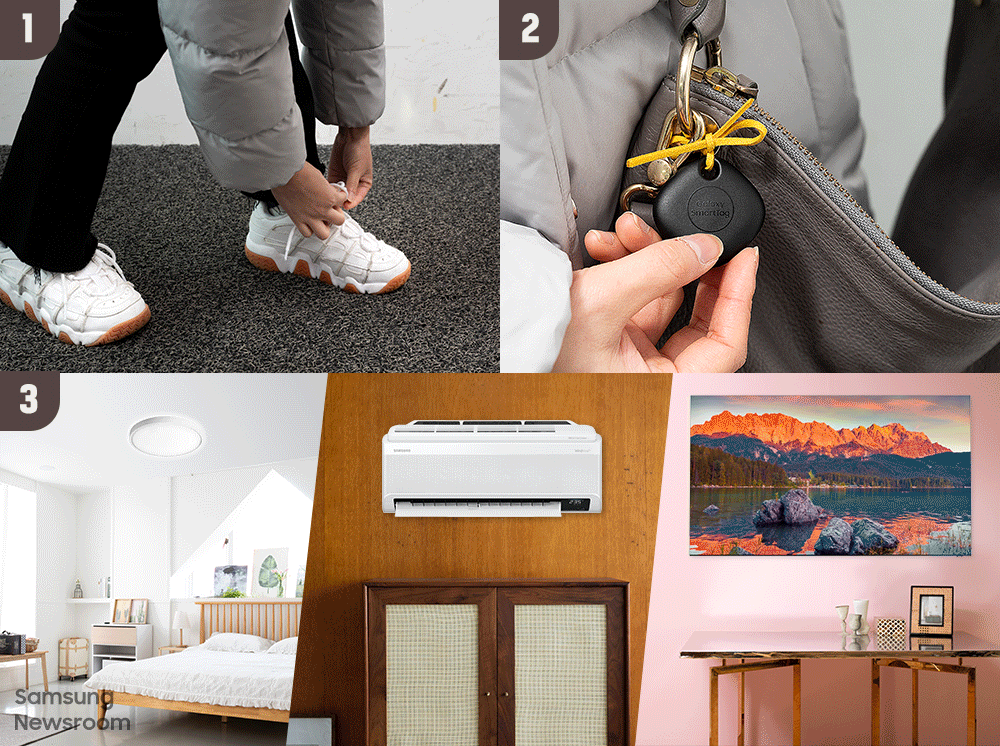 You're heading out, and have already gotten to your car when you remember that you forgot to turn off the air purifier in the house. Instead of heading back in, you just press the button on the Galaxy SmartTag hanging from your bag.
The Galaxy SmartTag is useful not only for locating items, but also in remotely controlling your smart devices. Through the SmartThings app, users can set functions to be executed when the tag button is pressed once briefly, and when it is pressed and held.2 Once you set up other devices in the 'Mode' menu of the SmartThings app4, you will be able to control multiple appliances with your SmartTag.
The Galaxy SmartTag is a compact, easy-to-use solution that helps you protect your possessions, from small objects to your most valuable belongings. If you are prone to misplacing things and want to take better care of your belongings, the Galaxy SmartTag is for you.
1 Availability may vary by market and carrier. Available on Galaxy smartphones and tablets running Android 8 or later.
2 Available only when both Galaxy SmartTag and your Galaxy smartphone are connected.
3 The Bluetooth range of the Galaxy SmartTag is up to 120 meters in an environment with no obstacles. Actual performance may vary depending on the environment.
4 Only possible to control devices that are registered on the SmartThings app