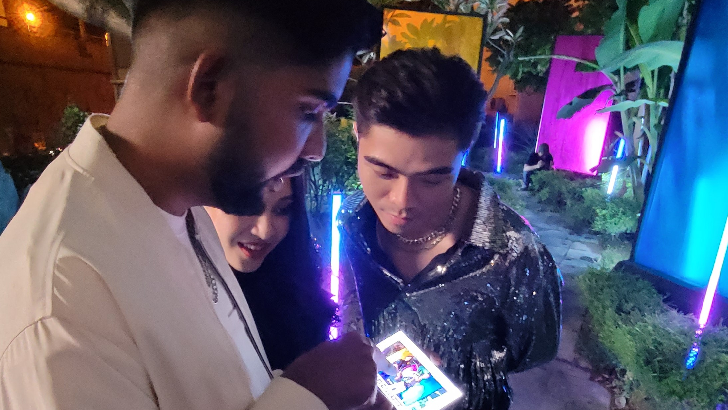 Music creates a language and emotion of its own – the beat, the bass, the flow, and the tempo evokes emotions and our highest aspirations. It has the power to flip our moods and make us live our lives in a single moment and enhance creativity.
Jawagar Samidurai, a melomaniac and film director describes music as an integral part of cinematic narration – the mouth of unsaid thoughts. It exposes the feelings of characters, actions, tensions, and even horror. Thus, that is how he found himself exploring as a director, he wants to set off the magic of music, through films.
With advanced mobile camera technology, Al-backed processing, and vibrant displays to transcend the standard mobile-experience; the Galaxy S22 Ultra opens up a world of possibilities – allowing Jawagar to create a musical experience that is visually electrifying, where lights become the rhythm of motion – he directed and produced his own short film to capture energy that comes from music.
It not only offers a dynamic camera experience, but also a revolutionary Nightography feature which allows you to take images and videos that will leave you stunned. The device features bigger sensors and Adaptive Pixel technology, as well as an anti-reflective nano-coated lens, that captures colours and makes your images pop out in vibrant tones by letting more light into the frame, making them appear stunning — in all lighting situations. Even with diverse forms of illumination during a film production, the Galaxy S22 Ultra can take crisp films with outstanding textures and colours, to showcase the energetic vibe at night.
"The Galaxy S22 Ultra gives every single individual out there an equal playing field where now everyone can explore and create stories with their creativeness," he expressed with hopes to drive everyone to believe that there is no limit to creativity.
Jawagar agrees that the Galaxy S22 Ultra champions the future of filmmaking as you get all the necessary specs and equipment of a normal cinema camera – giving all aspiring filmmakers the opportunity to take incredible shots, unleash their creativity and share their story, all from the palm of their hand.
He was surprised at how easy and simple it was to shoot with the device, with the quality of video being, as Jawagar would describe it – mind-boggling. To add some flair to your film, the S Pen that comes with the device offers precision like never before – you can animate titles, draw graphics, and add your own creative touch to it, and it's as easy as ABC. Even better, it simplifies and accelerates the video editing process!
"Portrait video is something that I really love on this phone. It gives you the depth separation between the foreground and background. Even though it is AI driven, Samsung did a really good job on making it look cinematic and real without overpowering the blurriness of the bokeh," he eagerly shared as he goes on to talk about the other cool features on the Galaxy S22 Ultra.
As you rely on your smartphone to shoot – longevity is essential. The Galaxy S22 Ultra's is also packed with an all-day battery life[1] – a 5,000-mAh capacity can last you through your day on a single charge. "It really did! Even with high usage, it lasted the whole day," Jawagar excitedly praised. Better yet, the device also supports 45W fast charging, so you don't have to wait long before you dive back into action!
Given the experience Jawagar had with filming on the Galaxy S22 Ultra, he believes the device can be considered as a main tool in filmmaking. "With this sheer amount of power and quality in this small package, it will definitely save a lot of time and give me the freedom to explore various new angles that weren't available on those big chunky cameras."
Born of Galaxy Stars Short Film Competition
If you've always wanted to make movies but haven't known where to begin, worry not. This is your chance to create your own style and stand out from the rest with the Galaxy S22 Ultra! All you have to do is submit a short script by 24 April 2022 in the Born of the Galaxy Stars[2] short film competition, endorsed by the Malaysia International Film Festival (MIFFest) in line with the theme, "Borderless with Nightography", and choose one of the concepts to include in the short script: Fashion, Fitness, Romance, or Music. Samsung Malaysia and MIFFest will then choose 22 shortlisted participants, each of whom will get a Samsung Galaxy S22 Ultra to use to shoot and develop their short film. These final productions will then be in the running to win an awards at the Malaysian International Film Festival (MIFFest) opening ceremony in July 2022.
To find out more about the Born of the Galaxy Stars Short Film Competition, please visit: https://www.mgga.com.my/born-of-the-galaxy-stars-shortfilm2022/
To submit your entries for the Born of the Galaxy Stars Short Film Competition, please visit: https://bit.ly/3tw4kvM
To find out more, or purchase the latest Galaxy devices, please see the respective links below:
[1]

Based on average battery life under typical usage conditions. Average expected performance based on typical use. Actual battery life depends on factors such as network, features selected, frequency of calls, and voice, data, and other application usage patterns.
[2]

Terms and conditions apply. Open to all Malaysian residents; aged 18 and above as stated on their IC/passport (as of 28 March 2022).