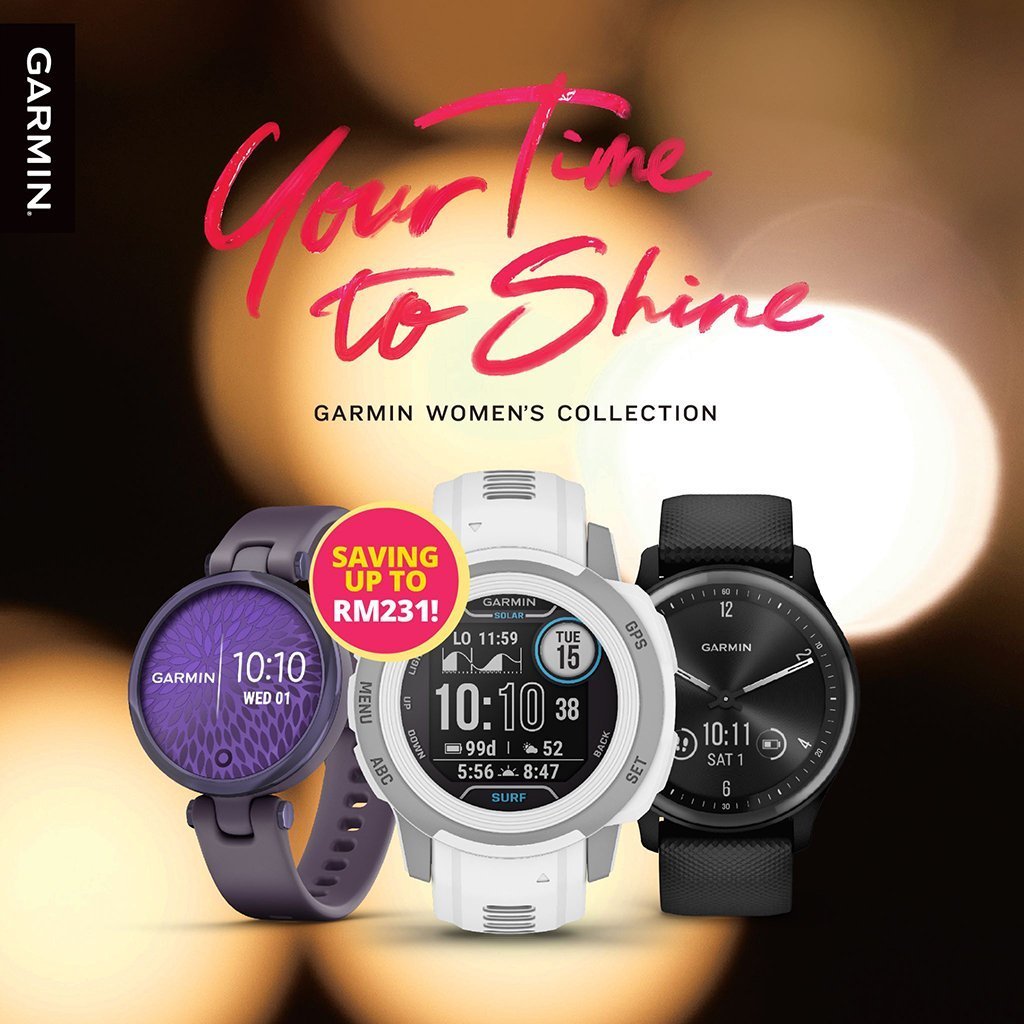 Enjoy savings up to RM231; promo starts today until 16 November 2022
Kuala Lumpur, Malaysia, 1 November 2022 — In conjunction with Garmin Malaysia's "Your Time To Shine" Female focused Campaign, Garmin introduces an exclusive promotion for their female-centric collection, with savings up to RM231. The promotion begins today and ends on the 16th of November 2022.
The promotion entails:
The Garmin Vivomove Sport, a classic hybrid smartwatch with both an analog styled appearance and light-up smart screen
View real-time notifications, text messages, and more right on your watch, totally phone-free. Preloaded with features to track your menstrual cycle, sleep patterns, energy and stress levels, heart rate, and more. Retails at RM760 (save up to RM130 during the promotion period).
The Garmin Lily, featuring the best of style and function
Comes with thoughtful features designed for women, Lily allows you to track your overall health conditions with features of calories intake, fitness age, sleep patterns/habit, hydration levels, energy levels, stress levels, and pulse ox . Retails at RM760 (save up to RM230 during the promotion period).
The Garmin Venu 2S, advanced health monitoring and battery life up to 10 days
On-the-go boss ladies can simply focus on your work(out) and let the Venu 2S handle the rest. Featuring a narrow streamlined design, this edition comes with advanced health monitoring and multiple professional training programs with over 25 sports to choose from, and a battery life that lasts up to ten days. Retails at RM1,780 (save up to RM200 during the promotion period).
For the rugged and outdoor adventurer: Instinct 2S (Surf Edition), Instinct 2S Solar, and Instinct 2S (Surf / Camo Edition)
Made for the outdoor enthusiast, the Instinct 2 series have been tested for toughness with 30+ preloaded sports apps. We are talking about high-altitude operations, shock resistance, extreme temperature-resistance), and smartwatch battery life up to 28 days.
Instinct 2S (Surf Edition), retails at RM2,260 (save up to RM210 during the promotion period)
2. Instinct 2S Solar, retails at RM1,999 (save up to RM221 during the promotion period)
3. Instinct 2S (Surf / Camo Edition), retails at RM1,760 (save up to RM220 during the promotion period)
"We would like to dedicate this month of November to celebrate our fellow women who strive at all they do, be it fitness, work or maintaining a good balance of it all," said Mr. Scoppen Lin, Assistant General Manager, Garmin Asia. He continued, "we hope that this new affordability can encourage more to pick-up healthier habits while tracking every essential and celebrated progress along the way".

Hurry before the promotion ends on 16 November 2022!
Purchase the respective smartwatches during the promotion period to enjoy savings of up to RM231. Available at all Garmin Brand Stores, Shopee, Lazada, AECO e-store and selected authorised retailers.
Other Garmin fitness brands include Tacx and Firstbeat Analytics. For more information, visit Garmin's virtual pressroom at garmin.com.my/news/pressroom/, or follow us at facebook.com/GarminMalaysia, instagram.com/GarminMalaysia, youtube.com/GarminMalaysiaAsia or follow our adventures at garmin.com/en-MY/blog/.
Your access to our promotional Images: Garmin Women's Collection