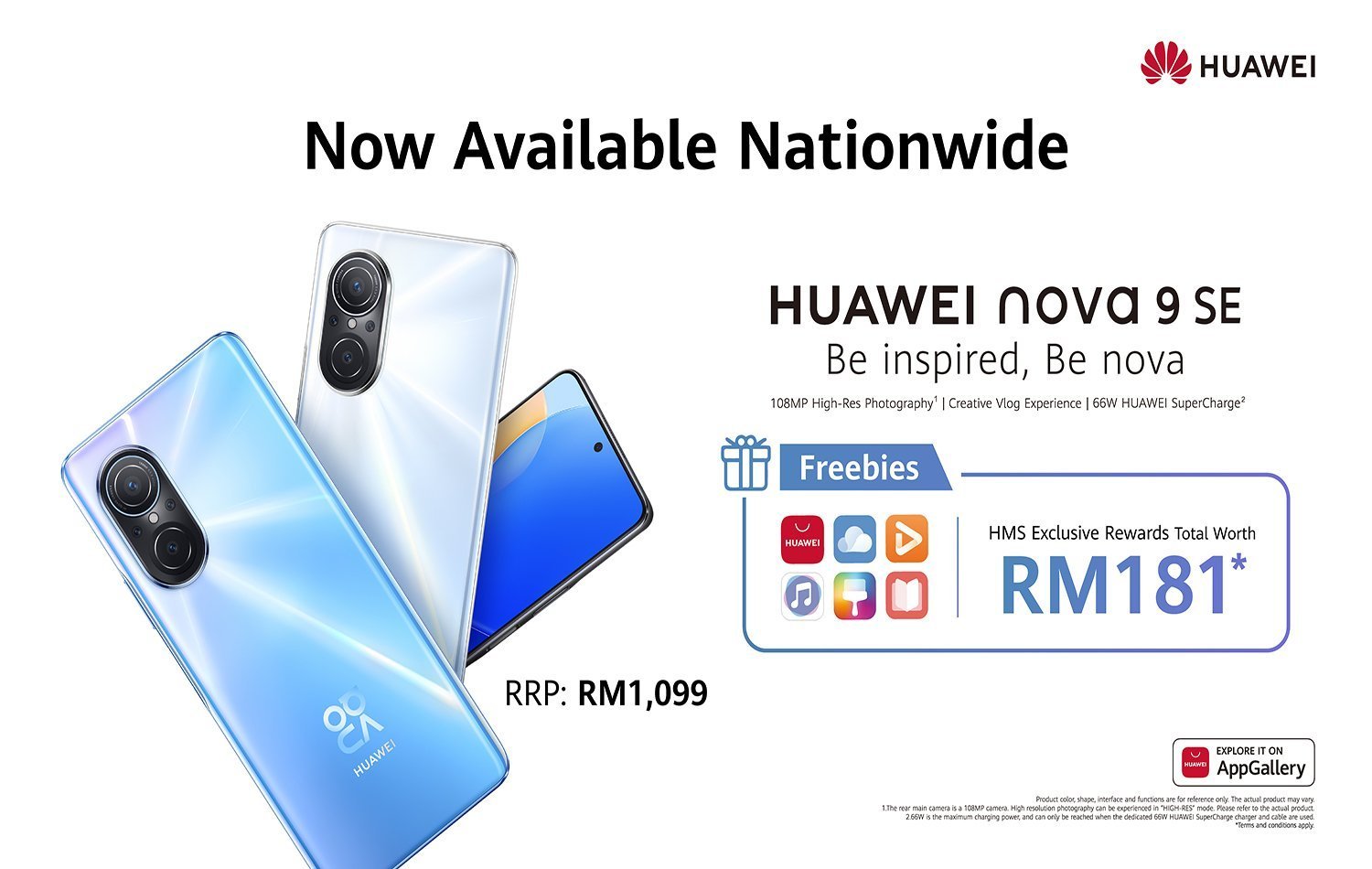 Making your vlogging experience easy and fun, the latest HUAWEI smartphone is now available nationwide at RM1,099
KUALA LUMPUR, 19 March 2022 –The recently launched HUAWEI nova 9 SE brings innovative features and fashionable design to all Malaysian. Thanks to its powerful camera system and integrated videography features, the new HUAWEI nova 9 SE not only inspires creativity but also allows users to create engaging videos, creating new possibilities for them to record every moment of their lives. Priced at only RM1,099, the HUAWEI nova 9 SE is now available on HUAWEI Official Website, HUAWEI Experience Stores, HUAWEI Official Store on Shopee, and HUAWEI Flagship Store on Lazada.
Packs with a powerful 108MP High-Res Camera system, the HUAWEI nova 9 SE ensures exquisite picture quality in a high-pixel mode. Whether you are shooting scenery, portraits, architecture, or more, be it day or night, the HUAWEI nova 9 SE captures what you see before your eyes in detail. Its efficient cooling technology, excellent battery life, multi-touch technology, and support for blazing fast charging speeds with 66W HUAWEI SuperCharge promise a fluid user experience. The new EMUI 12 optimisations also provide smooth performance and synergy between the smartphone and other HUAWEI products.
Capture Your Story with AI Quad Camera
We are now adapting to the new endemic reality and people are starting to access interstate and international travel. Taking trips photos and posting them has been one of the ways people stay active on social media. Having a great and professional camera is important but bringing a heavy and bulky camera when travelling around may be a hassle to us. With HUAWEI nova 9 SE, you no longer have to worry about this! You can take shots easily no matter where you are with its lightweight body as it features the 108MP AI Quad Camera system which comprises a 108MP main camera, an 8MP ultra-wide-angle lens, a 2MP Bokeh lens, and a 2MP macro lens to help you better retain detail and produce exciting, high-definition photos.
You can also capture beautiful night scenes with its larger sensor and advanced imaging technology. The HUAWEI nova 9 SE allows the smartphone to deliver extremely clear shots in High-Res mode; creating images that are lossless even when they are zoomed in three times. In bright HDR and low-light scenarios, the HUAWEI nova 9 SE's 9-in-1 pixel technology combines data from blocks of pixels into an ultra-large pixel equivalent to 2.1μm in order to increase image brightness. The main camera has a large 1/1.52-inch sensor, to provide excellent resolution and light sensitivity. Ensuring the utmost clarity on all images, while enabling outstanding low light performance.
The HUAWEI nova 9 SE also features a front wide-angle camera (equivalent to 2.0μm, f/2.2 aperture) with AI Beauty to make you look good in your shots. You can now post your selfie on social media without any edits needed! It also supports auto switch to wide-angle mode when turning the phone sideways from upright, making group selfies easier without missing your friends in the photo. Supporting Remote Shutter feature that compatible HUAWEI smartwatches. This means you can easily set-up your HUAWEI nova 9 SE on a tripod and capture group selfies, without having to worry about awkward frames as you walk to and from the camera.
Vlog Innovation to Inspire Everyday Life
Always dreamed of becoming a TikTok star or wanted to create your own IG TV videos to show the world what you can do? With vlogging is on the rise, the HUAWEI nova 9 SE has exciting array of features for you!
To make it easy for users to express themselves through videos, the smartphone comes with Continuous Front/Rear Recording, for users to switch between the front and rear cameras, allowing you to fluidly capture your story within a single video file. The Dual-View Video recording also helps capture both front and rear camera perspective simultaneously, allows you to showcase your live reaction to events, with no editing required.
The HUAWEI nova 9 SE makes the video editing process even simpler thanks to Hybrid Video, Image Search, and One-Click Video Creation. What's more, with the Petal Clip app, you can easily choose from a variety of video templates and themes before posting your vlogs to social media in no time.
Power at Your Fingertips
Great for all gamers. The HUAWEI nova 9 SE is complemented by an equally powerful cooling system – a graphene heat dissipation system in a sandwich-like architecture that's capable of sensing and cooling down overheated areas more quickly. You can play your games or even stream videos with no worry of the device will be overheated as it can run at full throttle while remaining cool to the touch.
The smartphone also supports Huawei's industry-leading 10-point Multi-touch technology and 8x Ultra High-resolution Touch. It also provides fast response even when the user is making multi-finger gestures, while helping with your aim when using the high-zoom feature.
Feeling frustrated when you have to charge your device several times a day due to low battery? You can avoid the frustration easily just with the HUAWEI nova 9 SE. The smartphone delivers excellent battery life with its 4,000mAh high-capacity battery. Down time is kept to a minimum, with the support of 66W HUAWEI SuperCharge which takes only 15 minutes to charge the phone up by 60 percent, or 36 minutes to fully charge it. Vouched for by the TÜV Rheinland Safe Fast Charge Certification, HUAWEI nova 9 SE brings you a fast and safe charging experience.
New Inspirations in User Experience
With EMUI 12, you can enjoy a buttery smooth experience even after using the device for a long period of time – whether it's for entertainment or office use. Only with one click, the display can be wirelessly projected or mirrored to HUAWEI Vision, providing an expanded view that is perfect for films and games. When pairing the HUAWEI nova 9 SE with a HUAWEI smartwatch, speaker or HUAWEI Vision, the experience is intuitive and effortless.
With the Distributed File System, HUAWEI nova 9 SE allows you to access files from a PC. You can send files between the smartphone and other HUAWEI devices via HUAWEI Share, or transfer MeeTime calls onto HUAWEI Vision and speak with up to 11 parties simultaneously by taking the advantage of the larger display, camera, and speakers.
Explore your favourite apps from AppGallery
Download any of your favourite apps from AppGallery, the official app market pre-installed in the HUAWEI nova 9 SE. HUAWEI AppGallery is one of the top 3 app stores in the world. It is now available in more than 170 countries and regions, with 580 million monthly global active users.
In 2021, the global application distribution volume reached over 432 billion downloads, with a year-on-year increase of 56% outside China, and this is testimony to AppGallery's growth and rising popularity.
Curated mobile apps and a plethora of exclusive giveaways, rebates, coupons and VIP privileges are available across a wide range of categories including games, social, shopping education, lifestyle and fashion. Some of the popular apps such as AirAsia, Boost, Grab, Shopee, Syok, TGV, Zus Coffee and more can be downloaded as well. Mobile gaming enthusiasts can also try their hands at popular game titles from AppGallery, including Fishdom, Gardenscapes, Ragnarok X: Next Generation and more, to be the first to experience new releases and enjoy exclusive in-game promotions.
In addition to AppGallery, HUAWEI nova 9 SE users can also enjoy a comprehensive and seamless digital experience through more HUAWEI native apps such as the navigation app Petal Maps and search engine Petal Search to meet your daily needs. As on-the-go entertainment continues to be a prevalent, users can discover vast catalogue of immersive content through HUAWEI Video, Music and Books.
Pricing and Availability
The HUAWEI nova 9 SE is available nationwide now at HUAWEI Official Website, HUAWEI Experience Stores, HUAWEI Official Store on Shopee, and HUAWEI Flagship Store on Lazada. Wait no more and get your hands on the latest HUAWEI nova 9 SE, priced at only RM1,099 and bring home freebies worth up to RM 181!
Visit HUAWEI Facebook and HUAWEI Official Website for more information.