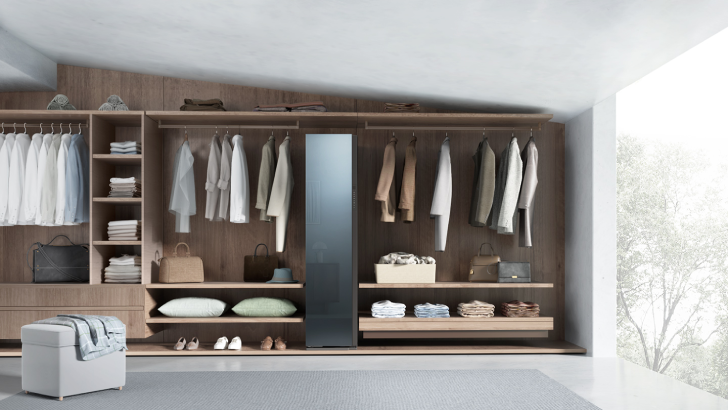 The AirDresser offers an at-home laundry solution for an innovative way to refresh and sanitize your clothes in between washes.
KUALA LUMPUR, 1 APRIL 2022 – Samsung Malaysia Electronics has just launched its latest steam wardrobe appliance, the Samsung AirDresser. This innovative new technology combines powerful steam and air to relax light wrinkles and remove common bacteria, dust mites, and odours from your clothing.
This is a new and efficient method of caring for clothes – and other accessories like bags and scarves – keeping them clean in between washing cycles. As it prolongs the period between washes, less stress is put on fabrics, particularly delicate materials like silk, chiffon, and lace. This lengthens the lifespan of your clothes, allowing you to rethink your purchase decisions and impact your wardrobe in a sustainable way.
"In these times where health and hygiene are of utmost importance, the AirDresser is the ideal appliance for busy individuals to refresh and revitalise their wardrobe in an efficient, effective, and easy way," said Edward Han, President of Samsung Malaysia Electronics. "Warm temperatures and a humid climate in Malaysia mean that we usually only wear our clothes once before washing. We want to offer our local consumers an alternative to constant wash cycles and instead, sanitize their clothes in a clean and sustainable manner."
Refresh and Sanitize your Clothes
Equipped with JetSteam and AirHanger the AirDresser works to keep garments hygienically clean and fresh, while eliminating creases with its ingenious Wrinkle Care system[1]. Blasting hot steam through five clothes hangers, quickly refresh your clothes in as little as 20 minutes from the comfort of your home. With the Sanitize option, high-temperature steam penetrates and sanitizes clothes, eliminating 99.9% of bacteria, viruses, and dust mites from fabric[2].
Additionally, a built-in deodorizing filter and UV LED eliminates common odours in fabrics like house pet smells, smoke, perspiration, unpleasant food, and other musty odours[3]. You can also infuse your clothing with your favourite scent, within the AirDresser itself. Freshen up your garments and reduce static cling by inserting a scented dryer sheet into the built-in Fresh Finish compartment[4].
In our Malaysian weather, humidity is an issue in most households. When the door is left open, the AirDresser doubles as a dehumidifier to help remove moisture from the room, protecting items in your wardrobe from mould with the dehumidification feature.
With AI-powered learning, the AirDresser conveniently learns and recommends your favourite cycles at the times you use them most. Your drying time is also optimized, thanks to Sensor Dry technology that continuously senses moisture within the clothing and adjusts the drying time accordingly.
The AirDresser has up to 24 cycles that extend the life of fabrics—from wool and linen to cotton and delicates. These cycles can be controlled via Samsung's SmartThings app on your mobile phone. Remotely start, pause, receive notifications, and get cycle recommendations at the palm of your hand so you can care for your clothes from anywhere[5].
Installation and Availability
Available in Crystal Mirror, the AirDresser is loaded with Smart innovations and high-performance features to keep your wardrobe looking and feeling fresh. Bring thorough fabric care to any space in your home with AirDresser's easy installation—the unit can be easily installed by simply plugging it into a standard rated power of 220-240V/50Hz outlet and you're all set. No separate water line or professional installation necessary; the refillable water reservoir is all you need.
Samsung's AirDresser is now available at all Samsung outlets, retailers, and online shopping platforms with a retail recommended price of RM8,799. From 1st April 2022 to 5th June 2022, purchase the AirDresser at only RM7,599 and receive an air purifier (AX34R3020WW/ME) worth RM1,049 for free[6].
For more information on Samsung's AirDresser, please visit: https://www.samsung.com/my/washers-and-dryers/airdresser/df9000rm-mirror-black-df10a9500cg-fq/
[1] Based on independent testing by Intertek, using a normal course according to KS K 0891 and ISO 9867. Wool fabric wrinkle recovery efficiency was 100% and rayon fabric wrinkle recovery efficiency was 80% after using the AirDresser.
[2]

Based on testing by Intertek. Using Daily Care course + Sanitize option, eliminates: 99.9% of viruses and bacteria, including influenza A, adenovirus, herpesvirus, norovirus, rhinovirus, hepatitis, Staphylococcus aureus, E. coli, MRSA, Streptococcus pneumoniae and Legionella pneumophilia and 100% of house dust mites.
[3]

Based on testing by Intertek, using Normal cycle, eliminates 99% of isovaleric acid, 4-ethenylpyridine, valeraldehyde, and tetrachloroethylene.
[4]

Dryer Sheets not provided. Scent strength may differ based on dryer sheet used. Scent may remain inside AirDresser after cycle is complete. Discard dryer sheets after each cycle to prevent mould growth.
[5]

Available on Android and iOS devices. A Wi-Fi connection and a Samsung account are required. SmartThings not compatible with some tablets and other select devices.
[6]

While stocks last at selected outlets and participating stores only. Terms & Conditions apply.