In pursuit of greater user experience, OPPO VOOC Flash Charge technology takes speed, safety, and intelligence to the next level.
KUALA LUMPUR, 30 July 2021– Leading global smart device brand OPPO recently held its OPPO Flash Charge Open Day in China, themed "What's Next for Flash Charging?" which unveiled the most recent achievements from its ongoing research into fast charge technology and the development of its Flash Charge technology solution.
"OPPO's development of its VOOC Flash Charge technology is based on innovation across an entire fast charging system that encompasses the charging adapter, charging cable, power management integrated circuits (PMIC), battery and more," said Jeff Zhang, Chief Scientist of OPPO VOOC Flash Charge. "Whether people choose wireless or wired charging, VOOC Flash Charge technology is now capable of meeting a wide range of needs when it comes to charging electronic devices, even in the most extreme circumstances", he added.
Safe charging: new upgrades and innovations create a safer charging experience
OPPO has always placed efficiency and safety at the forefront of its development of Flash Charge technology. Based on this concept, OPPO has introduced a five-fold safety protection system to improve safety in VOOC Flash Charge technology, and has been exploring how new materials, AI algorithms, charging architectures and other factors can be used to deliver further innovations:
Fuse with lower impedance: the fuse contained in the Flash Charge five-fold safety protection system can immediately blow in the case of an electric current overload or other abnormality, protecting the battery by physically isolating it from the electricity supply. The upgraded fuse design has lower internal resistance and improved performance, helping to further improve the safety of the charging system.
Gallium Nitride (GaN) Switches: OPPO has made use of GaN switches on its smartphones for the first time. These switches are not only able to achieve the same functionality as traditional silicon MOSFET switches over a smaller area, therefore reducing the space required, but their low impedance and high voltage operation helps to reduce heat generation while improving charging efficiency and reliability.
New Internal bi-cell design: the bi-cell battery design enables the same power to be delivered while lowering the electrical current and reducing heat generation. The internal bi-cell design takes this concept a step further by combining these dual battery cells in the same structure, therefore taking up less space while still delivering the same safety performance. The new design allows for at least a 5% increase in battery capacity for the same battery size.
Battery Safety Detection Chip: OPPO's proprietary Battery Safety Detection Chip with embedded AI algorithms can detect if batteries have suffered from external damage by recognising voltage drops in real-time based on a range of scenarios and act accordingly. If the voltage drop is related to a damaged battery, the phone will warn the user and initiate additional safety measures to prevent further hazards.
Composite Current Collector: OPPO developed a Composite Structure Safety Battery featuring an all-new composite current collector. The battery uses a new composite material sandwiched between two aluminum layers to replace the typical aluminum-only design found in other batteries. This "sandwich" structure is further coated with an additional protective material to make up the five-layer composite current collector structure. It improves the safety of the battery by protecting it from short circuits caused by external damage. Testing in the OPPO Lab shows that, without compromising on performance, the new battery passes puncture and collision tests with a 100% success rate.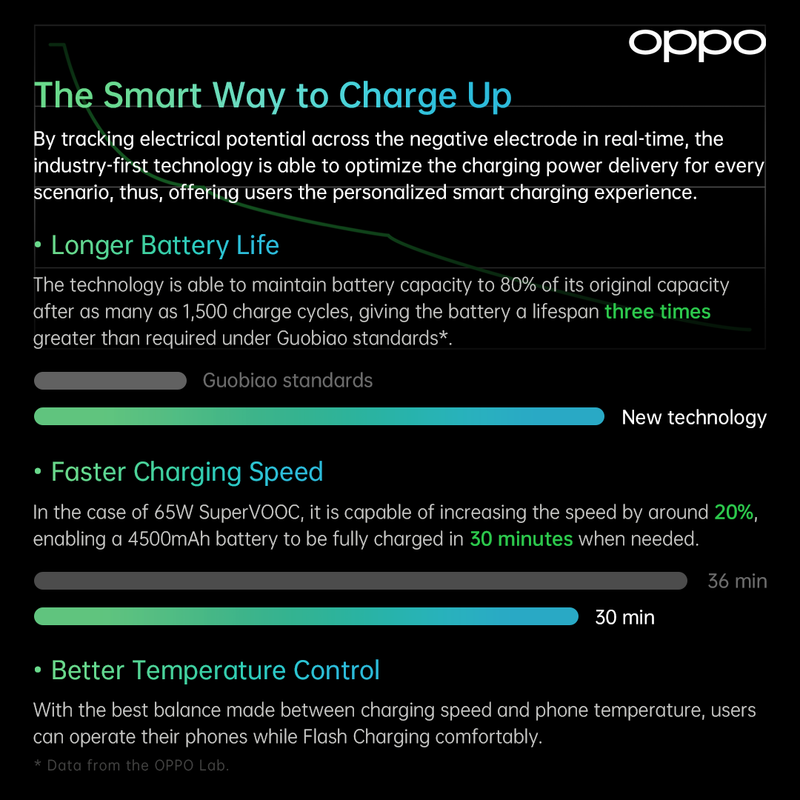 Smart charging: optimising speed and battery life for the perfect balance
OPPO also unveiled its new smart charging technology during the event. Designed to keep the charging speed within the safest possible range, the technology adjusts the charging current based on intelligent detection of different charging scenarios. This can also help to reduce the occurrence of unusual battery aging,allowing users to enjoy optimal battery life for a longer period of time.
The smart charging technology can deliver noticeable improvements to multiple aspects of the battery's performance, including:
Longer battery life: while ensuring the speed of 65W SuperVOOC and full charge/discharge of the battery, the technology can maintain battery capacity to 80% of its original capacity after as many as 1,500 charge cycles.
Improved charging speed in specific scenarios: the charging speed can be increased according to specific situations based on the instantaneous maximum power that the battery can safely take in at any given time. In the case of 65W SuperVOOC, it can increase the speed by around 20%, enabling a 4500mAh battery to be fully charged in 30 minutes when needed.
Balancing charging speed and phone temperature: the technology can intelligently find the best balance between the optimal charging current and subsequent temperature rise under different usage scenarios. As a result, users can operate their phone while Flash Charging without any discomfort.
Extreme charging: even in the coldest environments, Flash Charge doesn't give up
In addition to making VOOC Flash Charge as safe and smart as possible, OPPO has also been exploring ways to optimise fast charge technology under more extreme situations. For instance, it can be difficult to charge a lithium-ion battery under very cold temperature, where forcing the battery to charge may even cause it to short circuit. OPPO's ultra-low temperature charging solution uses smart algorithms to determine the optimal charging temperature of the battery and increases the temperature before charging begins. Test results show that the battery is capable of increasing in temperature from -20℃ to 10℃ in a few seconds, allowing the battery to be charged as normal.
Since the introduction of VOOC Flash Charge in 2014, safety, efficiency, and ease-of-use have been three of the core areas that contribute to OPPO's R&D into battery and charging technology. As of June 30, 2021, OPPO has already applied for over 3,000 patents related to fast charge technology; and through over 30 devices that support VOOC Flash Charge technology, OPPO has brought this fast, convenient, and safe charging experience to more than 195 million users worldwide.
In 2021, OPPO launched its new project – The Flash Initiative – bringing its proprietary VOOC technology to automobiles, public spaces, and chips inside a wide variety of devices. In the era of the Internet of Experience, OPPO's Flash Charge technology is evolving to bring users a new generation charging experience designed to excel in any situation, empower users to charge any device, anytime, anywhere.