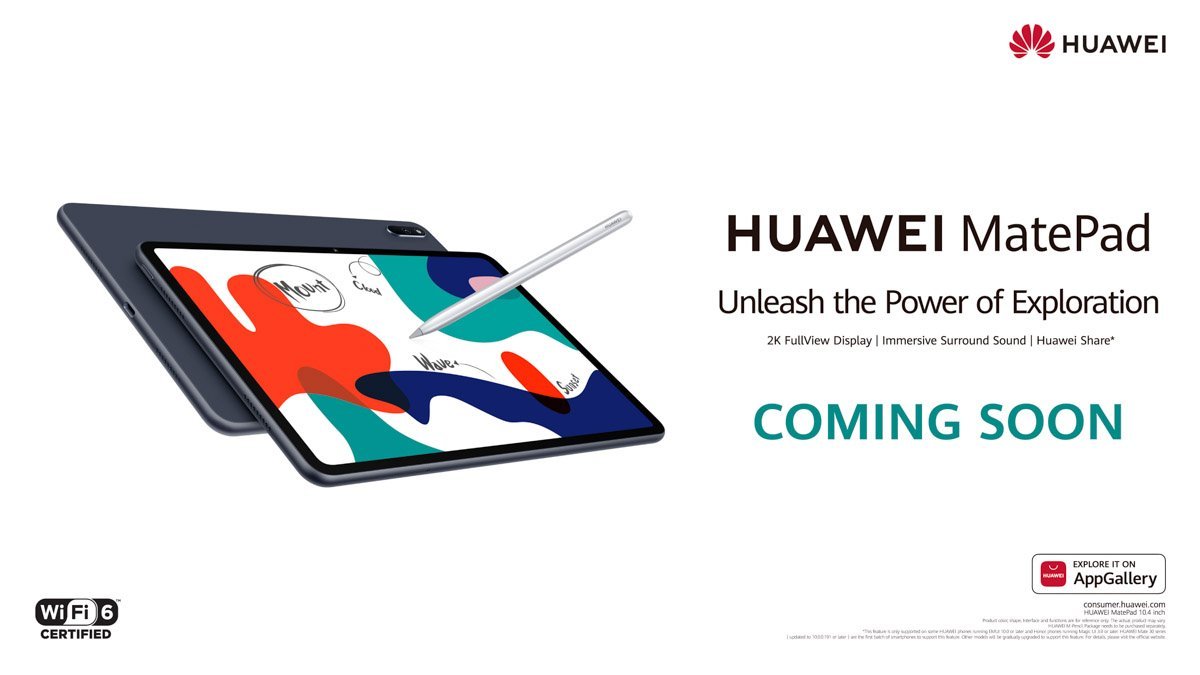 The newest addition to the HUAWEI MatePad family is set to arrive in Malaysia that gives users elevated consumer experience
KUALA LUMPUR, 11 March 2021: The world we live in today is not the same as we know it to be. We are witnessing new cultures and emerging trends that has changed the way we live our lives – where online remote learning and working-from-home (WFH) has inevitably become part and parcel of our day-to-day routine. Some of you may be looking for the right device to broaden your horizon or even get work done; that is where HUAWEI can help.
On 20 March 2021, HUAWEI is set to release yet another improved and upgraded version of its HUAWEI MatePad. The HUAWEI MatePad 10.4 is packed with features that makes it a tablet that one cannot live without. We listed three main reasons why HUAWEI MatePad 10.4 is the tablet everyone needs.
Experience Immersive Audio & Viewing
Staying at home means we must be virtually present to stay connected with our surrounding and everyone appreciates a device that allows us to stay connected while delivering incredible performance each time. With the HUAWEI MatePad 10.4, you can be sure that you are always connected with its Wi-Fi 6 technology. At its core, the HUAWEI MatePad tablet is equipped with HiSilicon Kirin 820 chip that will enhance your user experience altogether while making sure to deliver the power it needs.
Online remote learning and working from home does not sound as fun as it really is. We take breaks from time to time to distress and catch up with our series. Featuring a 10.4-inch 2K Full View Display with an 84% screen-to-body ratio, you are guaranteed to be fully immersed with your favourite series on HUAWEI Video with dramas and movies from Mango TV, Stingray, Qello Concerts and The Explorers during your breaks.
And if you like to listen to songs or podcasts, the MatePad 10.4 is fitted with quad speaker sound by Harmon Kardon – giving you the best audio experience one could find in a tablet. On top of that, the HUAWEI MatePad 10.4 only weighs 0.46 kg which makes the tablet a perfect companion for you to carry wherever you may go.
Bigger and Better
When it comes to storage, everyone likes it big and as the saying goes – the bigger, the better. The HUAWEI MatePad 10.4 is embedded with 128GB internal storage ready at your service. Just in case that is not enough, just slot in a microSD card to have an extra storage up to 512GB and you are set to go.
Like all other HUAWEI products, it comes packed with solid battery and it is no different for this tablet. The HUAWEI MatePad 10.4 is equipped with a big 7250mAh battery, giving you an outstanding 12 hours of day-to-day use on a single charge. On top of that, the battery can charge up to 30% in half an hour using its own USB-C charger. [1]
Efficiency at its fullest
The HUAWEI MatePad 10.4 is suited with its one of a kind HUAWEI Share, allowing Multi-screen collaboration. This feature not only allows you to mirror your HUAWEI smartphones onto your tablet, but it also eases your life to transfer and share files across your devices, simply by dragging and dropping the file.
Imagine working on multiple documents at one time, do you not find it a bother to switch between documents and apps to get your work done? HUAWEI is putting a halt on this with its feature – Multi-window and app multiplier. This feature elevates your user experience in multitasking to a whole new level.
Staring into the screen of our devices can be tiring for your eyes, especially when we are working long hours. The HUAWEI MatePad 10.4 is fitted with the TÜV Rheinland certified screen, giving you the comfort for your eyes while reducing harmful blue light effectively. On top of that, the tablet comes with eBook mode – a feature in HUAWEI products catered to avid readers to protect your eyes and make your reading a more enjoyable session.
With all these improved features packed in the light-weight tablet, the HUAWEI MatePad 10.4 is definitely the tablet that delivers a powerful performance and will always help you stay connected, making it truly the table one cannot live without.
Click on the link to learn more about these amazing features on the HUAWEI MatePad 10.4 at the HUAWEI Store.
For more information, kindly visit HUAWEI's Facebook page at www.facebook.com/HUAWEIMobileMY.
[1] Note: the actual charging time and battery life may vary depending on user's usage