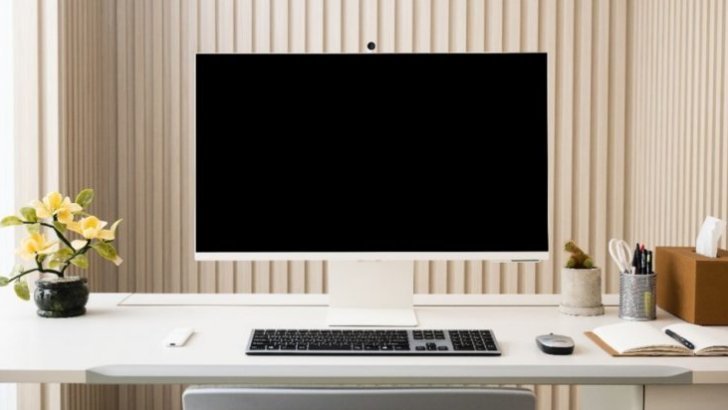 It's no surprise that many of us spend more time working, studying and relaxing at home these days. But what if there was a way to make that time more comfortable, meaningful and efficient?
In line with the new era of home life that we are experiencing today, Samsung Electronics has launched the 2022 Smart Monitor M8 — an all-in-one screen that combines key advantages of both a monitor and a smart TV. Allowing users to work and study even without a PC, and enjoy OTT services without a TV, the Smart Monitor M8 has emerged as a must-have item for the new era of working from home and streaming content.
The Smart Monitor M8 is enhanced for users' convenience and features with an even slimmer design than past models. Recently, Samsung Newsroom unboxed the device to see all the new features and details up close. Let's take a deep dive into the new, all-in-one experience monitor.
Easy To Install

After opening the box, we found that the 32-inch monitor's neat white color really stands out. The device features a vertical herringbone pattern on its back that creates a sophisticated vibe, as well as an eye-catching attachable camera. The box also includes a simple yet sturdy-looking stand, a USB-C cable, a micro HDMI cable (micro HDMI to HDMI) and a tiny remote control that fits comfortably in your palm — a rare addition for today's monitors. The monitor comes with a battery-free remote control that conveniently charges via a USB-C port. There are three external ports in all: one micro HDMI port, one upstream USB-C port and one downstream USB-C port. The middle USB-C port also supports 65W charging.
With a simple assortment of items, installation is easy. First, connect the stand's neck to its base and fasten the bolts at the bottom. Next, connect the assembled stand to the monitor by sliding it into place top edge first and then pushing down until you hear a click. To disassemble the device, simply push the button that disconnects the stand from the monitor.
An Ultra-Slim Design That's Easy on the Eyes
After assembling the monitor, we immediately noticed just how simple, neat and slim its design really is. Measuring just 11.4mm thin, the device is less than one-third the thickness of the previous version. Its warm white hue gently radiates a soft vibe, complementing any design or space. The organic herringbone pattern on the back adds a sophisticated touch that stands out even more when the monitor is installed in an open room setting.
The monitor's Height Adjustable Stand (HAS) is particularly convenient. When a monitor is aligned below a user's eye level, it forces them to constantly look down, which can cause neck pain. The Smart Monitor M8 can not only be tilted at different angles, but also allows users to adjust its height to match their eye level. This means there's no need to use other items or stands to elevate the screen. The height of the monitor — measured from the surface of the table to the bottom bezel — is 3.6cm at its lowest setting and 15.6cm at its highest setting.
SlimFit Cam Makes Video Calls More Satisfying

The Smart Monitor M8 also comes with a wireless SlimFit Cam (1920×1080, 30p) that makes it perfect for video conferencing and online classes. The camera can be conveniently attached or detached from the monitor at any time. It connects to the device using pogo pins, which means there's no need for wires. This keeps the monitor's back uncluttered and streamlined.
In addition, with video conferencing apps like Google Duo built right in, the monitor makes it easy to participate in online meetings or take classes at home or in an office. It also comes with a Face Tracking feature that automatically tracks and centers on users if they move during video calls, as well as an Auto Zoom feature that subtly zooms in on their face when speaking.
Creating the Perfect Home Office Environment, Even Without a PC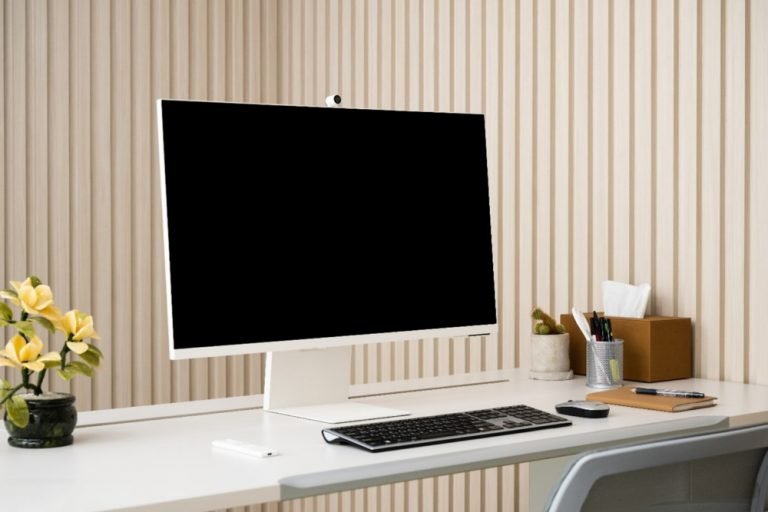 In the work-from-anywhere era, it can be quite daunting to manage urgent tasks without access to a PC. The Smart Monitor M8 removes that worry by making it possible to work PC-free as long as there's a Wi-Fi connection. The device's Workspace feature combines all work-related services into one screen, while the included Microsoft 365 cloud service[1] allows users to manage files using programs such as Word and PowerPoint even without a PC.
The Smart Monitor M8 also supports Samsung DeX, which allows Galaxy smartphones to support a PC-like experience, making it easy to connect to the monitor and start multitasking. Additionally, the monitor is equipped with Eye Saver Mode and Flicker Free technology to minimize eyestrain and prevent flickering.
Enjoy OTT Services to the Fullest
When you feel like sitting back and enjoying a show or movie, the Smart Monitor M8 transforms into a TV thanks to the built-in Smart Hub, which features various OTT services such as Netflix, Disney+, YouTube and more.[2] You can also view a variety of movies, TV series, sports matches and other content on demand — completely free — using Samsung's proprietary smart OTT service, Samsung TV Plus.[3]
But that's not all. The monitor's included remote control makes finding and managing content a breeze. Other features and enhancements that make the viewing experience even more satisfying include the device's UHD (3840×2160) resolution, HDR10+ support, 99% sRGB color gamut, 400nit brightness, 2.2 channel stereo speakers and Adaptive Sound+, which automatically analyzes the monitor's surroundings to optimize sound effects. The result is a rich content experience filled with detailed visuals and sound.
A Home IoT Hub for SmartThings
With built-in support for SmartThings Hub, users can easily connect their IoT devices to their Smart Monitor M8 and monitor their devices at a glance. The SmartThings app's Map View function allows users to check on the status of devices including Samsung smart home appliances and Bluetooth, IR (infrared spectroscopy) and IoT devices. Plus, with voice recognition technology, users can even control the lights, home appliances and more while in the middle of watching a show or other content.[4]
The monitor's built-in microphone enables its Far Field Voice feature, which recognizes voices even from afar, enabling you to control voice assistants like Bixby and Amazon Alexa.[5] If users talk to Bixby while the monitor is turned off, the Always On Voice feature springs into action, allowing users to interact with Bixby and displaying the information they want on screen. Users can also use Bixby to switch from one app to another and manage videos or home devices.
With our homes even more central to our lives, Samsung's Smart Monitor M8 is the all-in-one screen that complements modern consumers' lifestyles. Combining smart and practical features with a sophisticated design, while offering consumers the ability to use their monitor wherever they want, the Smart Monitor M8 is the perfect choice for consumers who are looking for a new monitor this spring.
※ Some images have been edited to help readers' understanding of the product.
[1] Requires users to log in to their Microsoft 365 account.
[2] Streaming service availability varies by country. Subscriptions may be required.
[3] Samsung TV Plus availability varies by country
[4] A separate SmartThings Dongle (VG-STDB10A) is required to connect to Zigbee devices (connection to Z-Wave device is not supported). VG-STDB10A can be purchased within April.
[5] Amazon Alexa availability varies by country.