The first ever Xiaomi POP Run in Malaysia successfully wrapped up with close to 1,500 participants accumulating a total of 66,661,843 steps
Kuala Lumpur, MALAYSIA, August 30, 2021 – Global technology leader Xiaomi has successfully completed its very first Xiaomi POP Run 2021 in Malaysia last week. The annual global run event that took place virtually accumulated a total of 66,661,843 steps nationwide from participating Xiaomi Fans in Malaysia.
The popular global event for fitness enthusiasts and Xiaomi Fans was the very first in Malaysia and was done virtually using Xiaomi fitness trackers. This event is in line with Xiaomi's strong dedication towards making lives better through technology, and it is no different with fitness. Xiaomi has produced amazing fitness trackers and smart products that specifically help monitor users' fitness journey, such as the Mi Smart Band 6.
During the Xiaomi POP Run 2021, Xiaomi also partnered with Celebrity Fitness Malaysia to kick-start a series of live workout sessions by expert fitness trainers. The livestream workout sessions powered by Celebrity Fitness gave participants the opportunity to spice up their workout routine and clock-in those extra steps in a fun and sensational way.
According to Xiaomi Community, it was recorded that among the participating Xiaomi Fans in Malaysia, 8 participants managed to achieve the most number of steps globally. Xiaomi has extended exclusive prizes to these 8 winners and 22 others, whereby top 30 in the world were awarded with brand new Xiaomi wearables to celebrate their achievement.
Nicolas Shi, General Manager of Xiaomi, Malaysia and Singapore said, "We are happy and proud to see the support from Malaysians for our very first digital Xiaomi POP Run 2021. It is truly encouraging to see everyone keeping active, and moving with us despite the pandemic. Ultimately, our goal for the run was to promote a healthier lifestyle amongst all Malaysians, and we are glad to have seen positive results and feedback. We hope that our Malaysian customers will continue to utilise Xiaomi smart products for their everyday and fitness lifestyles. A huge thank you to all our Xiaomi Fans, customers and partners for your support!"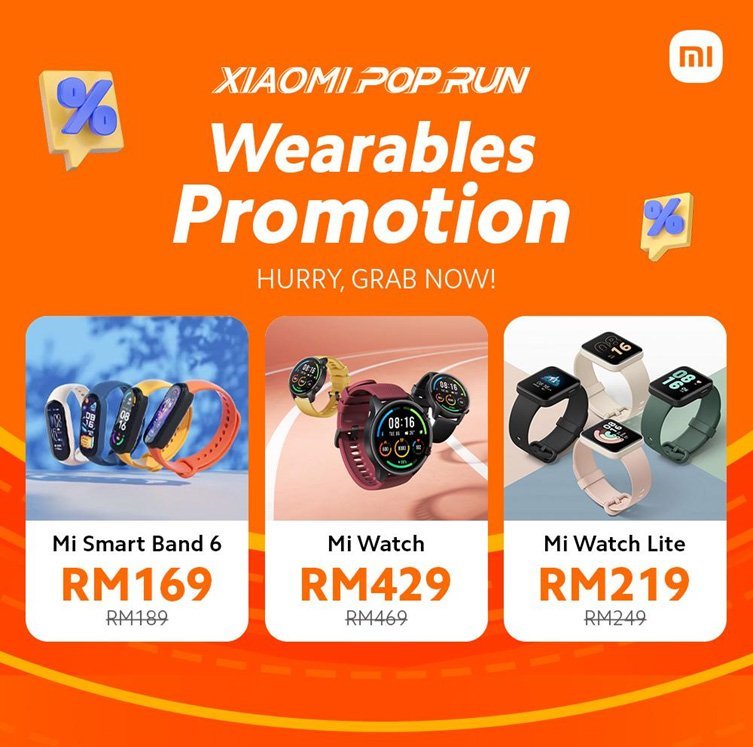 ONE DAY LEFT!
Last call for exclusive deals on Xiaomi wearable products, as well as health-related devices on its official Lazada channels are still available for ONE LAST DAY until August 31, 2021. Do check them out and add them to your cart if you haven't had the chance. Customers can also make purchases at the nearest Mi store or authorized Xiaomi retailer nationwide, while stocks last.
List of promotion as listed below:
**Promotional prices are available only until August 31, 2021 on a first-come first-serve basis, while stocks last.
Stay tuned to Xiaomi's Facebook and Instagram for the latest news, updates and promotions.