It's been a long day. It's been a crazy day. All you want to do is tune out and get lost in the music. Besides entertaining us, music is widely known to boost mental and emotional health. Whether you're into something upbeat like hip hop, mellow like jazz, relaxing like ambient music, or energetic like rock, music can stimulate the body's natural feel-good chemicals, such as endorphins and oxytocin, which benefit our mood and mental health. In fact, for some people, all it takes is listening to the voices of their loved ones to cheer them up or watching a movie to unwind.
With the Galaxy Buds2 Pro to elevate your aural experience, here are ways to boost your well-being:
1. Meditate to ASMR and sounds of nature
Meditate or read a book, accompanied with the sounds of babbling brooks and chirping birds. The Galaxy Buds2 Pro's 360 Audio feature elevates your listening experience to a more realistic dimension. Thanks to improved head tracking response, the sound moves with you, wherever you turn. From AMSR, ambient, nature and binaural beats, you will be able to pick up different sound frequencies that lowers the heart rate and deeply relaxes the body and mind.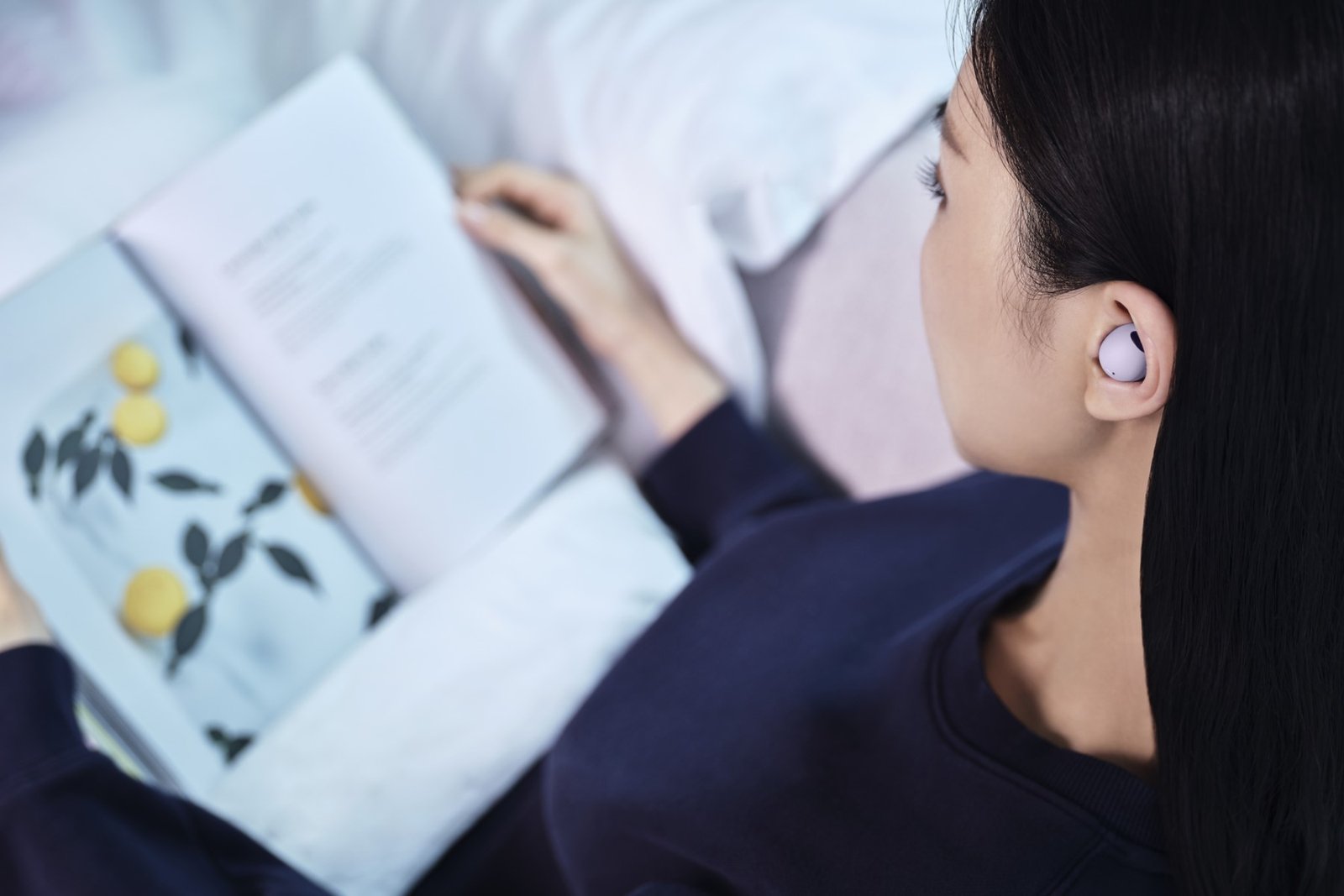 2. Let loose with the music
When you're in a bustling café or crowded mall, you can't avoid the loud chattering around you. Instead of turning up the volume to damaging levels, turn on the intelligent Active Noise Cancellation (ANC) on the Galaxy Buds2 Pro, so that all you hear are the lilting melodies of your favourite crooner. Or use ANC to block out any noise just because. After all silence is golden.
3. Break out in dance and song
Dancing, aerobics, and working out also allow people to express themselves and let loose, releasing happy hormones like dopamine in the body. With its ergonomic design, the Galaxy Buds2 Pro gives you a comfortable and snug fit to move to the rhythm for hours, yes, even for these vigorous activities.
4. Immerse yourself in cinematic action
Part of what makes a movie so awesome is the aural experience, from the alternating E and F notes that made us shudder in Jaws, to the haunting melodies in Interstellar, to the immersive surround sound mix in Baby Driver to puts us on the edge of our seats. With Dolby Atmos, movies and music move around you in a way that can't be achieved with standard sound. An immersive soundscape free from simple left or right channels surround you in details with direction.
5. Staying connected with your loved ones
With the Galaxy Buds2 Pro, you'll get voice calls that are as clear having as face-to-face conversations, using AI-based voice extraction. It will feel like your loved ones are right in front of you, while you swap stories. Meanwhile, you can Buds Together to the same tunes with your friends when you to connect more than one Galaxy Buds2 Pro to a single Galaxy device simultaneously.
Make the Galaxy Buds2 Pro a part of your journey to mental wellness today! Learn more about it at:
https://news.samsung.com/my/music-galaxy-buds2-where-your-passions-meet-excellence
Purchase the Galaxy Buds2 Pro today and enjoy a rebate of RM200 at https://www.samsung.com/my/offer/im/parents-day-2023/wearables/