There's no better month than November. Some would even go as far as to call it the most magical, with good reason. Some would go beyond to celebrate occasion as single individuals to treat themselves to gifts as a form of self-love.
But perhaps the best time of all is indulgence, where gifts aren't just bought for loved ones, they are bought for ourselves too. Check out some of Samsung's 'the best you can get' deals this 11th November:
Exclusive 11.11 all day RM100 vouchers up for grabs!
Samsung Brand Store Rate & Review upsized vouchers
Samsung Members RM100 stackable vouchers (with no minimum spend)
Additional RM99 off Lazada Samsung Brand Store daily sign in
You can also instantly receive an exclusive voucher worth RM110 on product with no min spend as our Samsung gifts to you.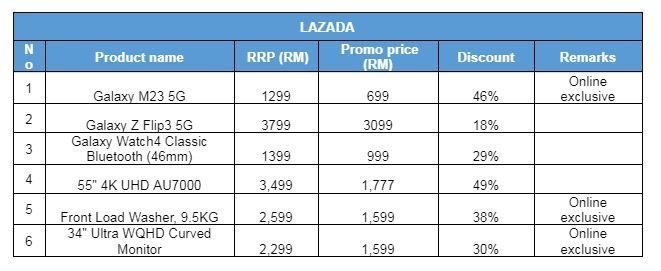 Not just that, you can also receive giveaways worth up to RM1,599 when you follow Shopee Samsung Brand Store and Lazada Samsung Brand Store.
From home solutions to smart TVs, home appliances and more, you don't want to miss out on the latest original Samsung products and exclusive online offers from authorized sellers. So, don't miss out on these limited time, first come first served deals!
Be a savvy shopper and start adding your wish lists to cart and set your alarms now! For more information on Samsung's upcoming promotions, please visit: