Engage your sense of smell, taste, sight and hearing for a true-blue cinema theatrical experience from your home
From your first step into a cineplex where you are bombarded by the bright hues of movie posters and sounds of movie trailers playing in the background, to the moment you settle into your cushioned seats, watching a movie is a treat for your senses.  The good news is that recreating that same movie-going experience can now be easily achieved by turning your den into your very own cinema lounge.
Re-live the Cinema Experience with your Favourite Snacks
Most of us strongly associate certain smells with our memories and past experiences and are able to evoke particular memories with just a whiff of a passing scent in the air. Just ask any of your friends the one smell they associate the most with going to the movies, the likelihood is that most would identify it as the smell of popcorn.
So why not recreate that experience by making your very own gourmet popcorn? Simply chuck a bag of kernels into your microwave and wait for the smell of roasting popcorn to waft through the air, taking you right back to the first movie hall you had walked into.
Take it one step further and elevate your movie night to the next level by making your very own gourmet popcorn –  be it sweet, salted or flavoured, you're spoiled for choice.  With just the Samsung Colour Series Microwave Oven, you can prepare mouth-watering meals, snacks and desserts with just the press of a button.
Through the dedicated Grill Fry function, you can indulge in other finger licking snacks such as pisang goreng, all cooked to crisp perfection and without the oil splatters that come from conventional deep frying. And the best part – there is no mess to clean after. With a durable CERAMIC INSIDE™, the Samsung Colour Series Microwave Oven can be cleaned easily without scrubbing and will not discolour over time.
Create the Right Cinematic Ambience
Most of us would probably have sat through a movie and have it marred by other people talking loudly, uncomfortable seats that make your backs ache, or having ushers flash their torchlights in long sweeping arcs trying to help other moviegoers find their seats. Thankfully, as the "designer" of your own home cinema, you get to set your own "no talking, no mobile phones, no spoiler" rules for those joining you for a movie session.
Invest in dark curtains to block out the external light coming through the windows, or even install light dimmers to create the right ambience. For the most comfortable theatre experience, you can opt for recliners and lounge chairs, or even throw down some bean bags. Away from the judging eyes of others, being at home also means you can put on your PJs and lay on as many pillows and blankets for optimum comfort.
Redeem Those Freezing Experiences At Home
One thing that many cinema operators can never get right is the ideal temperature in the halls – it is either freezing or unbelievably warm temperatures and there is no in-between. So watching your favourite movies in your own home does have one advantage – you now have full control over the climate for your best movie-watching experiences.
Snuggling under the blanket with your loved one as you catch the latest rom-coms is now a possibility with the Samsung Wind-Free™ Air Conditioner, allowing you to stay cool without being 'frozen'. The AI Auto Cooling[1] feature analyses the room conditions and usage patterns[2] before setting the optimum temperature, so that you no longer have to fumble with the settings to get it right.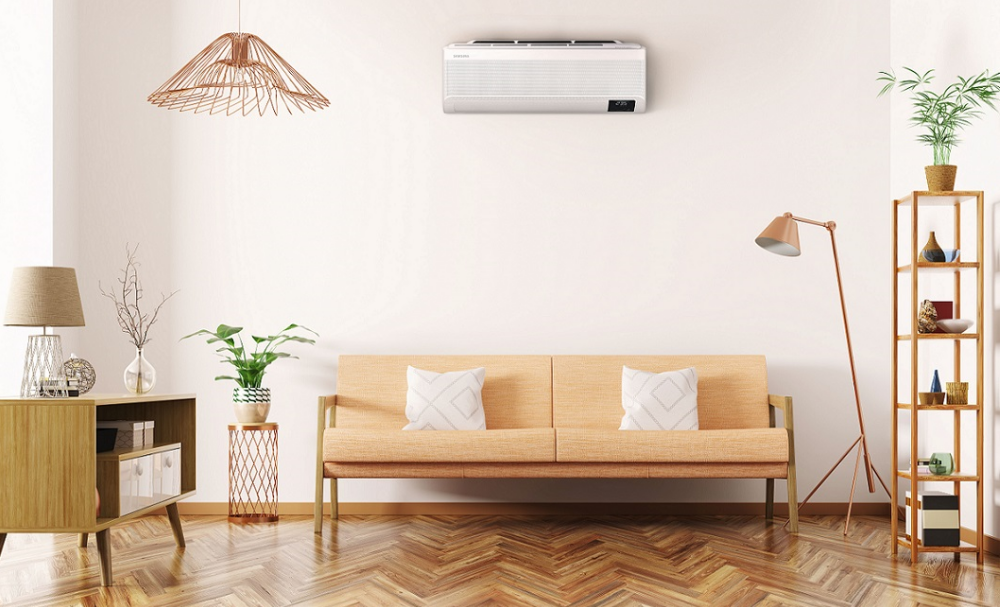 The Wind-Free™ Cooling[1] technology also gently disperses air through its 23,000 micro air holes to prevent the unpleasant feeling of harsh cold wind on your skin. With our Digital Inverter Boost technology, Samsung Wind-Free™ Air Conditioner operates efficiently and cools the room with less noise, so it does not hamper the movie-watching experience.
Immerse in Cinema Quality Visuals and Surround Sound
When it comes to a cinematic experience – we cannot forget about the audio and visuals. While it would certainly be unfair to pit commercial TVs against the extremely high resolution and definition offered in most movie theatres, the Samsung Q950TS QLED 8K TV comes pretty close.
At 85 inches and boasting a true-to-life 8K resolution, the massive Q950TS offers hyper-clarity imagery and scenery that is guaranteed to pull you right into the movie. Even for playbacks of lower-resolution content such as older feature films, the Q950TS has improved 8K AI upscaling[1] to vastly improve the image quality, allowing you to enjoy your favourite films through new eyes and appreciate it all over again. Featuring an Infinity Screen design, the near invisible bezel display allows the Q950TS to further eliminate the boundaries between the TV and its surroundings.
To complete the immersive experience, pair the Q950TS with Samsung's newly launched Q Series soundbars and bring reel life into real life. The Q-symphony feature activates and plays surround sound from both the TV and soundbar, creating incredible audio synergy with the compatible TV[2]. With Dolby Atmos® and DTS:XTM, you can hear the distinct sounds flowing above and around you[3].
With your favourite snacks in hand, and lounging comfortably in your new home movie den, you will realise that recreating the movie experience has never been that easy!  So sit back, relax and enjoy movies just the way you should.
[1]

A Wi-Fi connection and a Samsung account are required.
[2]

Stores user data, preferences and usage patterns to suggest the most appropriate operating function. Illustration indicative only, actual effect will vary.
[3]

Creates a 'Still Air' environment. ASHRAE defines "Still Air" as air currents at speeds below 0.15m/s which lacks the presence of cold drafts. The device provides cooling at or below this speed in Wind-Free Cooling mode. Actual effect will vary.
[4]

Viewing experience may vary according to types of content and format. '8K AI Upscaling' may not apply to PC connection and Game Mode.
[5]

Q-symphony feature only available on 2020 Q Series Soundbar models along with Q80T TV and greater. Q Series Soundbars sold separately.
[6]

The quality of sound effects depends on the source content and source device. The availability of the feature may vary by TV size. The environment and type of installation may affect the performance of this feature.