New innovations unlock more ways for consumers to save energy, cut costs, and reduce their impact on the environment
Samsung Electronics Co., Ltd. recently announced innovations designed to bring about a new era of sustainable living. With services like SmartThings Energy setting new standards for household efficiency, Samsung's latest Bespoke home appliances empower users to save both energy and money. Together with technologies including a new wash cycle and filter that significantly reduce microplastic emissions from washers, Samsung's newest advancements make it easier than ever for consumers to reduce their impact on the environment and support the health of the planet.
"The technologies we're unveiling at CES 2023 place sustainability at the core of the user experience," said Moohyung Lee, EVP and Head of the R&D Team of the Digital Appliances Business at Samsung Electronics. "Our ambition is to become the most energy-efficient appliance brand globally, and our latest products and partnerships will help make sustainable living a reality for more people and more communities."
SmartThings Maximizes Energy Savings
With more than 80 million connected devices,[1] the SmartThings platform continues to expand while unlocking more ways for users to reduce their carbon footprint at home.
Now, SmartThings Energy's AI Energy Mode[2] is more powerful than ever, offering support for more devices and regions and even more significant energy savings. This includes up to 15% more savings for compatible refrigerators,[3] up to 20% for compatible air conditioners,[4] and up to 35% for compatible washers[5] on select cycles.[6]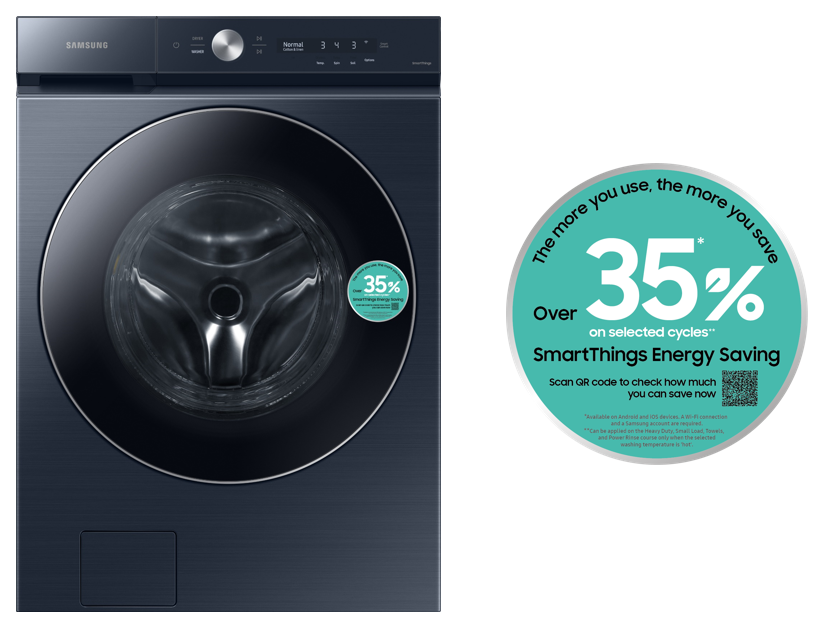 Industry's First Smart Home Energy Management Systems (SHEMS) Certification
Samsung's efforts to enrich and expand SmartThings Energy have led the U.S. Environmental Protection Agency (EPA) to award Samsung the industry's first mass-market Smart Home Energy Management Systems (SHEMS) certification. The certification recognizes smart home appliances and services that manage and automate connected devices to help consumers gain insights into their energy use, thereby inspiring energy-saving behavior, reducing costs, and helping to facilitate demand response measures that minimize stress on the grid.
The EPA has also awarded base model Samsung home appliances 260 ENERGY STAR® certifications, including 43 "Most Efficient" recognitions.[7] Samsung is a long-standing leader with more than a decade of ENERGY STAR award leadership, and a rare recipient of the prestigious ENERGY STAR Corporate Commitment Award.

Making Net Zero Homes a Reality – Offering Households the Ultimate in Energy Efficiency
To empower more people to enjoy energy independence at home, Samsung has unveiled the next phase of its net zero home initiative: the Smart City Project. Working with Sterling Ranch and its long-time technology partner Siemens, the Smart City Project will help establish Sterling Ranch as a master-planned sustainable housing community designed to house 30,000 residents in Littleton, Colorado.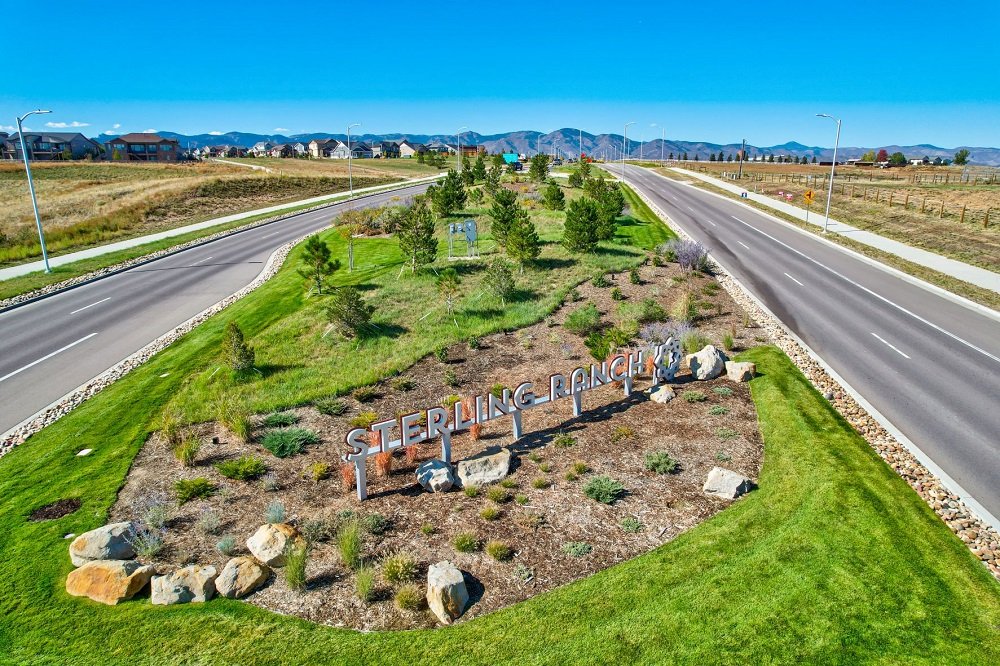 SmartThings Energy will serve as the residents' primary interactive app to monitor data, with Samsung appliances offering residents real-time insights on their energy, water and natural gas use. Throughout the community, solar panels and household batteries will produce and store energy, while energy-efficient appliances reduce power and monitor water use to save resources. Together with smart infrastructure solutions from Siemens paired with smart home and energy optimization solution from Resideo Technologies, Samsung technologies will make it easier for the residents of Sterling Ranch to enjoy a net-zero lifestyle.
Samsung's collaboration with Resideo, extends beyond the Smart City Project. Samsung and Resideo are exploring an opportunity to integrate Samsungs appliances with Resideo's smart grid solutions to connect customers with energy management programs in California and Texas. In the future, this work could help make more communities smart-grid ready by expanding Resideo's best-in-class demand response offering and optimizing SmartThings Energy's savings.
Tackling Microplastics Head-on With 'Less Microfiber' Technology
While reducing the impact of devices and homes is vital to creating a sustainable future, other clear and present risks to the environment demand our attention. For over a year, Samsung and Patagonia have been working together to address the challenge of microplastics shedding during the laundry process and polluting oceans and other bodies of water.
Samsung's new Less Microfiber Cycle and Filter are the products of that collaboration. A breakthrough in the fight against microplastics, the Less Microfiber Cycle cuts microplastic emissions by up to 54%.[8] Now available in Europe, the cycle will roll out to compatible washers in Korea from February this year and in the US soon.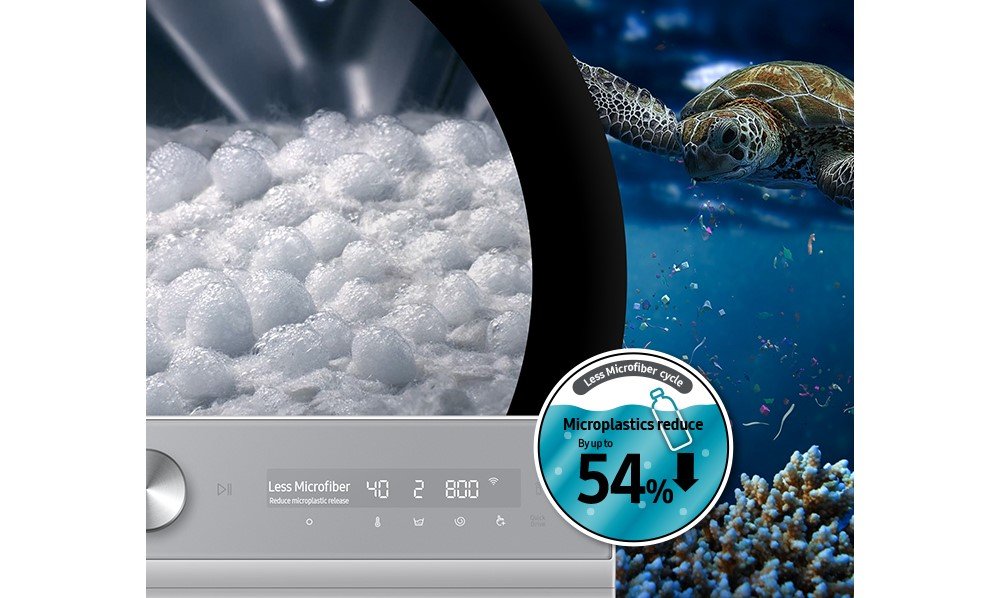 Like the Less Microfiber Cycle, Samsung and Patagonia's newly developed washing machine filter has the potential to have a real impact on the health of aquatic ecosystems. The Less Microfiber Filter reduces microplastic emissions by preventing them from escaping into the ocean at the end of wash cycles. It will be available in select Samsung washing machines in Europe[9] beginning in the second half of 2023, and can also be purchased separately and applied to any washer on the market, regardless of brand.
Samsung's latest laundry innovations will make it easier for consumers to reduce environmental waste for years to come. So too will its washers and refrigerators' class-leading 20-year warranties.[10] Covering the appliances' digital inverter technologies, the warranties open the door for additional waste reductions by extending Samsung washers and refrigerators' lifespans. Bespoke refrigerators also feature customizable door panels that support longer use by allowing users to easily update their existing appliance's design instead of replacing it with a new one.
Through close collaboration, technological breakthroughs, and a commitment to becoming the world's most energy-efficient appliance brand, Samsung aims to lead the way to a more sustainable future. Visit Samsung.com to learn more about the eco-conscious innovations Samsung is showcasing at CES 2023.
[1] As of December 2022.
[2] Available on Android and iOS devices. A Wi-Fi connection and Samsung account are required.
[3] Available on specific models from May 2023 through a Wi-Fi update. Test results based on a comparison of U.S. models' factory setting temperatures with and without AI Energy Mode. Results may vary depending on usage conditions and patterns.
[4] Based on internal testing of U.S. models. Results may vary depending on the user's actual environment and usage patterns.
[5] Based on internal testing on the WF8900B model with an 8lb IEC except for Small Load cycle (4lb IEC). Results may vary depending on actual usage conditions.
[6] Can be applied to Heavy Duty, Small Load, Towels, and Power Rinse courses only  when the selected washing temperature is 'hot'.
[7] As of November 2022.
[8] Tested with 2kg load of 100% polyester hoodies, comparing Synthetics cycle on Samsung Conventional model of European washer WW4000T and the Less Microfiber Cycle on WW7000B. The results may be different depending on the clothes and environment. Tested by the Ocean Wise Plastics Lab.
[9] Product availability and specifications may vary by country.
[10] The 20-year warranty is only applicable to the digital inverter motors in washers and dryers and compressors in refrigerators sold in the E.U. starting in July, in addition to digital inverter motors found in washers sold and manufactured in the U.S. Warranty is limited to products manufactured by Samsung and subcontracted manufacturers and does not apply to any outsourced products.