Many people look around the web for the definition of Smart TV. And while different sites may give different opinions, the consensus is that a Smart TV has internet connectivity, runs on an operating system, and comes with its own app service. Let's see what a Smart TV can do for you.
Stream from Your Phone
Many smart TVs also allow you to stream content directly from your phone or tablet. By using a built-in app or casting feature, you can mirror your device's screen and watch videos, view photos, or play games on the big screen. This is a great way to share content with others or to enjoy your favorite mobile games on a larger display.
Voice Recognition
A great Smart TV should automatically detect any device you connect via HDMI and eliminate the need to use several remote controls. Many smart TVs now come equipped with voice control technology, which allows you to use voice commands to search for content, adjust the volume, and even control other smart devices in your home with Bixby. You can activate this feature by holding the microphone button using your remote control.
Home Connectivity
Some smart TVs can integrate with other smart home devices, such as fans and vacuum cleaner. This means that you can use your TV to control these devices, adjust the temperature, turn off the lights, and more – all without leaving the comfort of your couch. Connecting your smartphone to your TV to view content on a bigger screen is something you will definitely want to experience. Pictures and videos from your phone feel totally different when you see them on a big screen.
Pay less for upgraded TV model with savings up to RM4,500[1]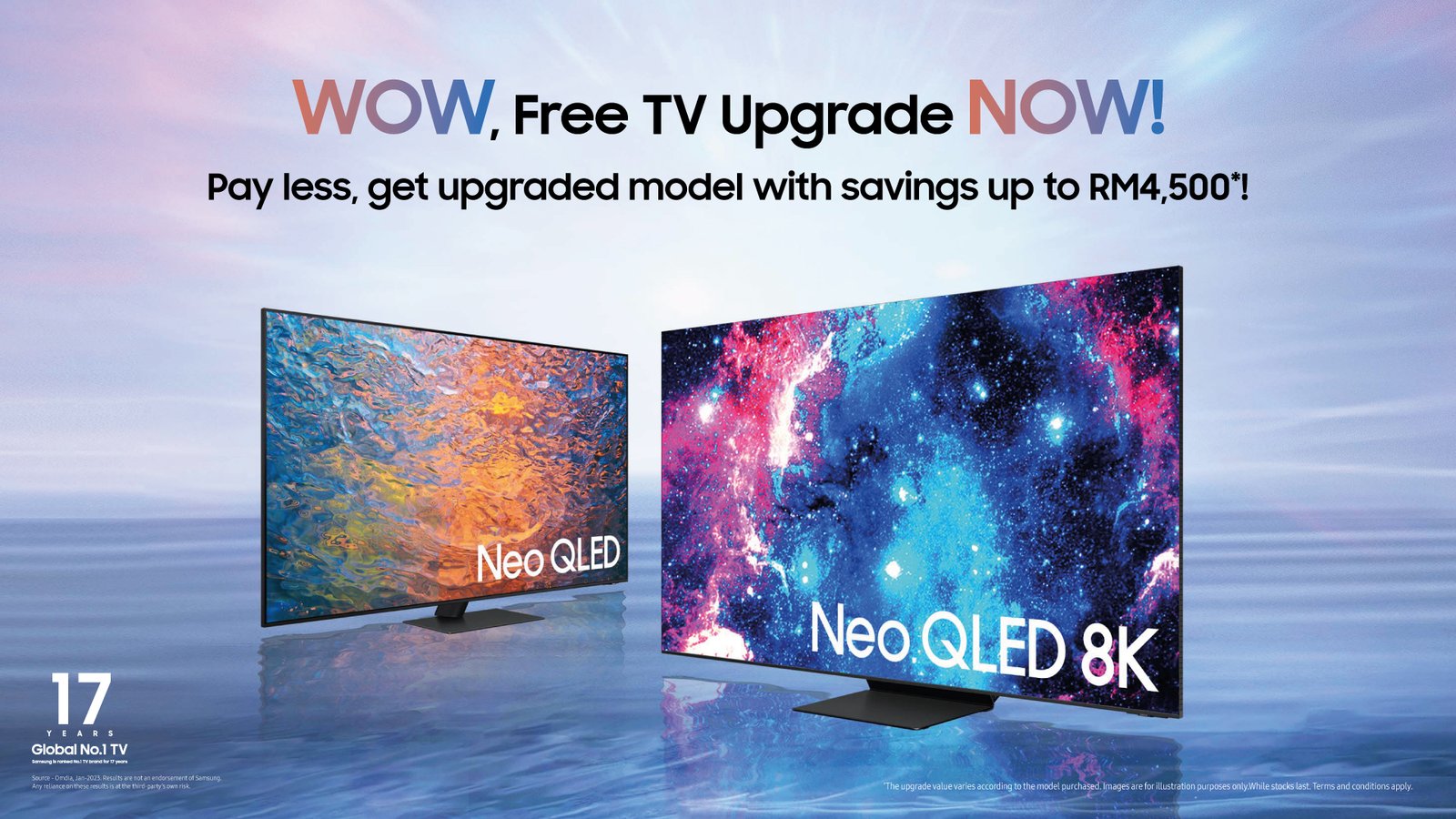 Do you wish to own one of your desired TV which can do all of the above? WOW, free upgrade NOW! Check out the 2023 Neo QLED 8K, Neo QLED 4K and QLED TVs Retail Recommended Price with upgraded model details below :-
Purchase with this price
Free Upgrade To

[2]

Model
Series
RRP (RM)
Series
RRP (RM)
Savings (RM)
Neo QLED 8K
QA75QN700CKXXM
18,199
QA75QN800CKXXM
22,699
4,500
QA65QN700CKXXM
15,199
QA65QN800CKXXM
17,699
2,500
Neo QLED
QA85Q80CAKXXM
15,199
QA85QN85CAKXXM
18,599
3,400
QA75Q80CAKXXM
11,199
QA75QN85CAKXXM
13,599
2,400
QA65Q80CAKXXM
7,199
QA65QN85CAKXXM
9,599
2,400
QA55Q80CAKXXM
5,999
QA55QN85CAKXXM
7,299
1,300
QLED
QA85Q60CAKXXM
12,199
QA85Q70CAKXXM
14,199
2,000
QA75Q60CAKXXM
8,499
QA75Q70CAKXXM
10,199
1,700
QA65Q60CAKXXM
5,399
QA65Q70CAKXXM
6,199
800
QA55Q60CAKXXM
4,299
QA55Q70CAKXXM
4,999
700
Early-order Promotion
Customer who purchase Neo QLED 8K QN700C, Neo QLED Q80C and QLED Q60C will automatically receive an upgrade to Neo QLED 8K QN800C, Neo QLED QN85C, and QLED Q70C respectively for the former price you pay! The benefit of these TV upgrade entitles you to spectacular picture quality and excellence performance in entertainment providing you WOW experience.
To enjoy this exclusive deals, be one of the first to pre-order at Samsung Malaysia Online Store https://www.samsung.com/my/tvs/early-order-2023/  and own your desired TV now. For more information on Neo QLED 8K, please visit https://www.samsung.com/my/tvs/8k-tv/highlights/.
[1] Terms & Conditions apply. While stocks last.
[2] Only available from 3 – 24 May 2023